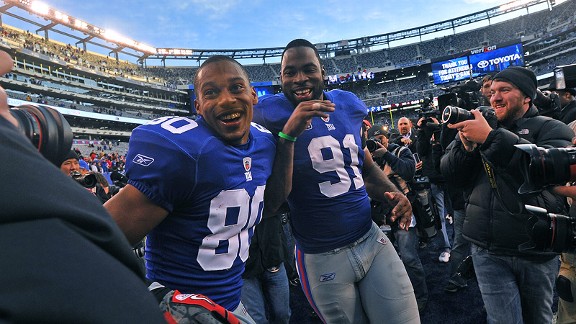 Kevin P. Coughlin/Icon SMI New York Giants Victor Cruz (left) and Justin Tuck dance past photographers after beating Atlanta.
It's been a great week for New York Giants wide receiver Victor Cruz.
And he feels like dancing.
• He was invited to take part in this spring's "Dancing With the Stars."
• His girlfriend, Elaina, gave birth to daughter Kennedy on Monday.
• He was named one of five finalists for the Vizio Top Value Performer Award, which is given to a player based on his regular-season performance, statistics and the role played in the success of his team. These factors are measured against the player's base salary, which in Cruz's case is $490,000.
So that's why he feels like dancing. That's what he does each time he scores a touchdown.
"When I was young, my grandmother always loved playing Latin music and she would grab me off the couch to dance," said the 25-year-old Cruz, who is of African-American and Puerto Rican descent. "So each time I score, I pay tribute to her. I know she loves it."
Cruz is a 2010 undrafted free agent who this season caught 82 passes for 1,536 yards and nine touchdowns. The other finalists for the award are Dallas wide receiver Laurent Robinson, New England tight end Rob Gronkowski, San Francisco linebacker NaVorro Bowman and Chicago running back Matt Forte.
"It's a tremendous honor to get nominated for this award," said Cruz, who played at the University of Massachusetts and was signed by the Giants in the summer of 2010. "It means a lot for me and my team, all the hard work we put in. I'm just a student of the game."
Cruz doesn't have anything special planned when he scores against the Green Bay Packers on Sunday in the NFL playoffs but "you never know when the emotions run high."
And he knows his grandmother will be watching.
"She'll be home watching the game with friends in Paterson, N.J., screaming at the TV," Cruz said. "She might not have any clue what's going on, but when she sees me on the screen, she lights up."
The same thing will be for Cruz's daughter, Kennedy, who weighed in at 7 pounds, 2 ounces.
And what about "Dancing With the Stars?"
"I turned it down," Cruz said. "At this point in my career, I want to focus on football. I don't want to do it right now."
ABC, that doesn't mean he's closing the door for the future.