Unfortunately, dubious dads often overshadow fantastic fathers in the sports world.
Athletes who father multiple children out of wedlock and fail to pay child support seem to be the ones who make headlines.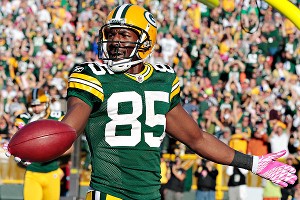 AP Photo/Mike RoemerGreg Jennings is a breath of fresh air on Twitter.
But don't paint all athletes with the same brush. If you check out Green Bay Packers wide receiver Greg Jennings on Twitter on this Follow Friday (#FF), you'll find tweets that speak to his competitive and inspirational nature, followed by the hashtag #BeGreat. Dig a little deeper, and you'll discover Greg is a super dad in addition to being a Super Bowl champion.
In honor of @GregJennings, Page 2 presents five rules for dads:
• Someone's gotta do the dirty work -- like painting toe nails.
• You might hate referees now, but there's a chance you'll have to be one someday.
• Nap time is really important.
• Every team needs a jersey and uniform color determined by majority vote.
• Be creative with how to keep your kids quiet.
@GregJennings, SUPER BOWL CHAMPION of the Green Bay Packers!!! To God be the glory!!! Luke 12:48 Everyone to whom much was given, of him much will be required.