Rob Lowe apparently moonlights as an Indianapolis Colts beat writer.
Earlier Wednesday, the actor tweeted:
• "Hearing my fave, #18 Peyton Manning will not return to #NFL. Wow. #Colts"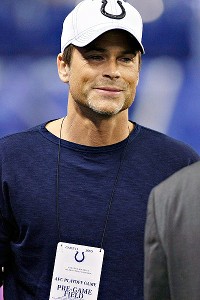 AP Photo/Mark DuncanIndianapolis Colts fan Rob Lowe set Twitter ablaze on Wednesday by posting that Peyton Manning is going to retire.
• "My people are saying Manning will retire today. What do you hear? #NFL"
• "#Colts fans, let's hope my info is wrong. Don't like being wrong, but this time... I'm hoping #NFL #Manning"
Is Lowe correct? Who knows.
Reports about the Colts have been spotty lately. On Tuesday, it was initially reported that head coach Jim Caldwell would be retained by Indianapolis. Minutes later, reports surfaced that he had actually been fired.
Is Lowe the one we need to clear up this miscommunication?
Sure, it's easy to dismiss the "Parks and Recreation" star as unreliable, as celebrities are earning a reputation of inaccuracy on Twitter. Earlier this month, musician Jermaine Dupri tweeted it was a done deal that Dwight Howard was being traded from the Magic to the Nets. Howard, of course, still plays for Orlando.
However, upon closer examination of Colts owner Jim Irsay's Twitter account, Lowe is the first individual that Irsay followed -- coincidence or foreshadowing?
Don't forget that "Parks and Recreation" is set in Indiana. Also, Rob Lowe starred in "St. Elmo's Fire," and St. Elmo is a legendary Indianapolis steakhouse. Clearly, evidence is mounting.
Needless to say, for the latest news surrounding the future of Peyton Manning, you should be following @RobLowe.
Or perhaps you should follow a more credible source, such as @JimIrsay.