I've no issue with nostalgia, or collecting memorabilia to remind someone of days past. A ball, a bat, a dirtied base that gives a memory of a treasured play, game or team -- I'm in.
It doesn't even have to be a great team or player. I myself own a Ramon Castro nameplate from Shea Stadium. I own multiple Jeromy Burnitz rookie cards. (I do not accept the verdict of the Hall of Fame voters -- zero votes -- as final.)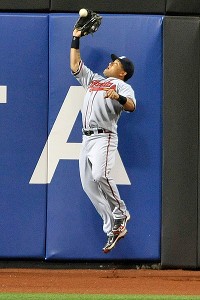 AP Photo/Paul J. BereswillMelky Cabrera turns a would-be home run (at Shea, anyway) into an out off the bat of Rod Barajas.
But I am at an utter loss considering who will want to bid $1,000 for a piece of Citi Field's left field wall.
This is not Shea Stadium, home to many bad years, but also a number of delightfully fantastic ones. This purchase says: I want to pay $1,000 to help remember the 2009-11 Mets.
In 2009, the Mets saw 20 of their 25 players on the Opening Day roster ultimately spend time on the disabled list. Who could wish to return to that season, other than doctors? The 2010 Mets finished 70-92, thanks to a three-game sweep of the Astros to end the season. Nelson Figueroa pitched a shutout on the final day; is he the target audience here? The 2011 Mets played with the financial reckoning of their owners hanging over them, and star shortstop Jose Reyes departed for the last time before the final game was an inning old. As Dean Martin would put it, memories are not made of this.
It can't be the wall itself, either. Left field has been the place where Mets home runs became doubles. It has reduced the production and confidence of the greatest remaining Met, David Wright. It is the wall that has stood behind Jason Bay as Mets fans ruefully contemplated how much longer his massive contract would run.
Even the stadium itself provides reminders, with its name, of a bailed-out enterprise, while the roughly $600 million ownership still owes on the stadium has helped precipitate the need for another bailout. Need I remind you, the stadium is not yet four years old.
So thanks, but no thanks, to the $1,000 price tag to remember, always, these last three years. I have every confidence that Citi Field will eventually mean a whole lot more to me. But for now, I can simply represent these years by posting a crudely drawn picture on my wall of an injured Met, his empty pockets turned out. Every time I look at it, the 2009-11 New York Mets will come rushing back to me. And I saved a thousand bucks in the process.