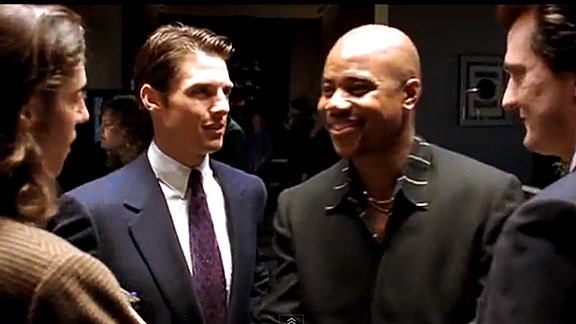 Courtesy of Tristar Pictures Tom Friend, Tom Cruise, Cuba Gooding Jr. and Mel Kiper, Jr. in a scene from "Jerry Maguire".
Editor's note: Thursday, Academy Award winning actor Cuba Gooding Jr. visited ESPN's Bristol campus to promote his new movie Red Tails, opening Friday nationwide. Gooding won the 1996 Oscar for Best Supporting Actor for his work in Jerry Maguire. The movie about a sports agent's struggles, also starring Tom Cruise, featured many cameos by dozens of sports figures including ESPN/ABC personalities past and present. Here's ESPN's Tom Friend's unusual story about how he made it to the big screen.
The residual checks come in every other month or so, in paper-thin envelopes.
Sometimes they're worth $4.78; sometimes $8.74.
No, it'll never make me rich.
But, in every other way, Jerry Maguire has shown me the money.
You can't put a price on being in an Oscar-nominated movie. I'm not in there for long; I'm not in there full view. But I was in a scene of Jerry Maguire with Tom Cruise, Cuba Gooding and, uh, Mel Kiper. And no one can take that away from me.
People ask all the time how I landed a movie role -- if you want to call it a "role'' -- and I tell them it really is who you know in Hollywood. Or who you do lunch with.
Back in 1994 when I was writing for the New York Times, I met Chris Connelly at an ESPN audition in L.A.
At the time, Chris was the editor of Premiere Magazine, and we spoke about writing and sports and acting. I told him I'd love to write a Hollywood piece for him someday, and, about a year or so later, he called to offer me an assignment.
"I want you to write a cover article,'' he said.
"On who?'' I answered.
"Well, it's a guy who likes sports and is sort of a guy's guy,'' Chris said. "I think you're the perfect writer for it.''
"On who?'' I answered.
"Tom Cruise,'' Chris said.
"Done,'' I said.