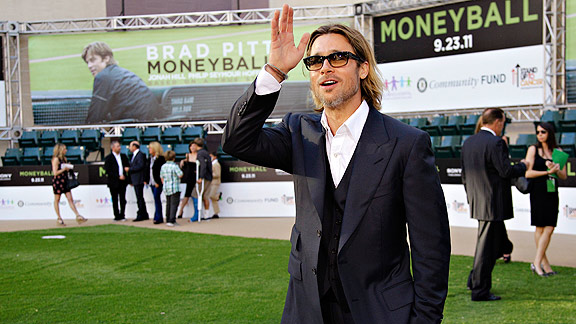 AP Photo/Ben MargotBrad Pitt was nominated for an Academy Award for"Moneyball," along with Jonah Hill.
The Oscar nominations are here! And they pretty much confirm it:
"Moneyball" is the new Moneyball.
• Billy Beane and the Oakland A's ignored the naysayers in creating a star-free 2002 lineup; producers Rachael Horovitz and Michael De Luca ignored the naysayers to turn an all-but-unfilmable book into a movie.
• The Moneyball A's went through some early struggles (a 19-25 start); the "Moneyball" production team went through some early struggles (loss of original director Steven Soderbergh).
• The Moneyball A's did have some major players (pitchers Tim Hudson, Mark Mulder and Barry Zito); likewise the "Moneyball" production team had its own big names (actor/producer Brad Pitt, co-writer Aaron Sorkin).
• Despite their inauspicious start, the Moneyball A's won a record 20 in a row and ultimately 103 games; despite its inauspicious start, the "Moneyball" film wowed critics (87 on metacritic and 95% on Rotten Tomatoes) and won over audiences (more than $106 million worldwide).
• Reward for the Moneyball A's: a trip to the playoffs; reward for "Moneyball": six Oscar nominations -- most for a baseball movie since 1942's "The Pride of the Yankees" -- including Best Picture, Best Actor (Pitt), Best Supporting Actor (Jonah Hill) and Best Adapted Screenplay.
• Ultimately, the Moneyball A's fell short of the big prize, losing in five games to the Minnesota Twins in the AL Division Series; ultimately, too, "Moneyball" will fall short on the Big Night, with front-runner "The Artist" likely becoming champion (and Uggie the new Rally Monkey).
Or will it? You never know -- perhaps the "Moneyball" movie will be the new Moneyball Red Sox instead …