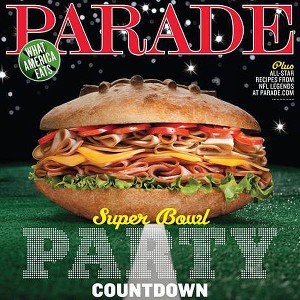 Courtesy of ParadeTo prepare you for the Super Bowl, ESPN talent Mike Ditka and Jerry Rice have provided Parade magazine some recipes.
This week on Parade.com NFL legends share their favorite Super Bowl dishes with you. Find out what Steve Young, Terry Bradshaw, Roger Staubach, Vince Young, Dan Marino, Barry Sanders, Brett Favre, Mike Ditka and Jerry Rice serve at their Super Bowl bashes. Find the recipes online every day this week at parade.com.
Check out the recipes for ESPN talent Ditka and Rice, among others.
Ditka's "Da" Pork Chop: When we asked Mike Ditka what he likes to enjoy on game day, he told us "Da Pork Chop." Lightly seasoned, roasted, then seared to perfection, Da Pork Chop is one of the most popular items on the menu at Da Coach's Chicago restaurant, Ditka's. Each juicy chop is served with a side of Sweet Mashed Potatoes, Michigan Sundried Cherry Sauce, and a sweet Apple Chutney. We hope you're ready to cook up a storm, because Ditka's shared the recipe for each coming Saturday.
Jerry Rice's Sticky Honey Wings: When Hall of Fame receiver and current ESPN NFL analyst Jerry Rice wants to relax with friends and family to watch a big game, there is only one dish on his mind. Rice says his friend and celebrity chef, Tyler Florence, makes the best wings in town, and lucky for all of us, Tyler was happy to share the recipe on Sunday. For those of you in San Francisco, Rice also told us that the Macaroni and Cheese served at Tyler's San Francisco restaurant, Wayfare Tavern is a close runner up -- but you'll have to visit the Tavern to try the dish!