Can you apply stoppage time to honeymoons? If so, former New York Red Bull defender Tim Ream is going to be scrambling to score late points with his new bride some time in the near future. The 24-year-old center-half pulled the plug on an 11-day Tahitian honeymoon just a day after marrying his college sweetheart, when the Premier League's Bolton Wanderers completed a $2.75 million transfer and summoned him to play beneath the dishwater skies of beachless northwest England.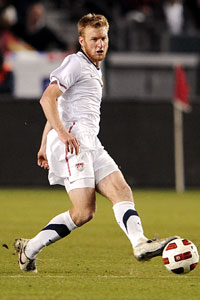 Icon SMITim Ream jumped right from the middle of his honeymoon to the Premier League.
Now suddenly finding himself living among the Brits, the native Missourian's going to need to assimilate quickly to survive. Lucky for him, Page 2 has put together some vital tips on how to fit in with our Revolutionary nemeses.
• After a big victory, DO NOT dump the Gatorade cooler on your coach, as it will generally be filled with scalding hot Earl Grey tea.
• Brits are expected to be relentlessly polite, so if a ref hands you a red card, the only acceptable response is to profusely thank him, kiss him once on each cheek, and hand-deliver a basket of wine and cheese to his family.
• Your teammates will never, ever tire of talking about Harry Potter or the royal wedding, so be sure to discuss these things at every available opportunity.
• Even though you're a newlywed, it would be considered mildly offensive if you didn't marry a Spice Girl within your first season.
• Fellow American Clint Dempsey seems to have earned his team's acceptance by scoring hat tricks, so maybe do that every once in a while.
• Queen Elizabeth II, the country's Dear Eternal Leader and Supreme Governess of Enormous Flowery Hats, regularly watches matches from a private balcony at midfield. At a match's conclusion, she'll offer a verdict on whether or not the losing squad should be banished to Azkaban. So you better win.
• English footballers, unlike the guys who play American football, generally refrain from shooting themselves in the leg at nightclubs, so try to avoid doing this unless you really, really have to.
• Even though it seems like you've just been signed to a large international contract, it's probably all just part of whatever big new thing Banksy's doing.