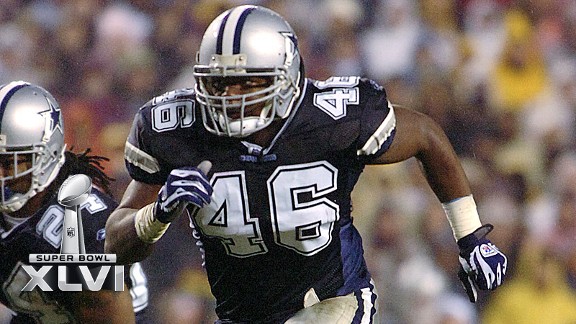 Larry French/Getty Images
Poor Jerry Jones really believed these Dallas Cowboys could be a Super Bowl team.
He believed it until the final seconds ticked off their 8-8 season, which finished with four losses in the last five games. That included a couple of losses to the New York Giants, whose playoff run could convince the Cowboys owner and general manager that he really was close to being right.
But there are plenty of reasons the Cowboys aren't anywhere near Indianapolis this week. Here are 46 reasons, in no particular order, the Cowboys aren't in Super Bowl XLVI.
I. Jerry doesn't wear a headset during games. If he did, the play-calling late in the loss to the Patriots wouldn't have been so conservative and the Cowboys would have saved about 15 seconds before calling a timeout late in the home loss to the Giants.
II. Veteran inside linebackers Bradie James and Keith Brooking wear their 40 times as jersey numbers.
III. Miles Austin's hamstrings are about as strong as ex-girlfriend Kim Kardashian's wedding vows.
IV. The Cowboys blew more double-digit leads in the fourth quarter this season (three) than the previous 51 years of franchise history. That isn't a joke.
V. It takes a least two playoff wins to reach a Super Bowl. The Cowboys are good for only one playoff win per decade and a half at this point. That math works about as well as a red zone shovel pass to Tashard Choice.
VI. Jerry might not be joking when he often says he made a deal with the devil to build the Team of the '90s.