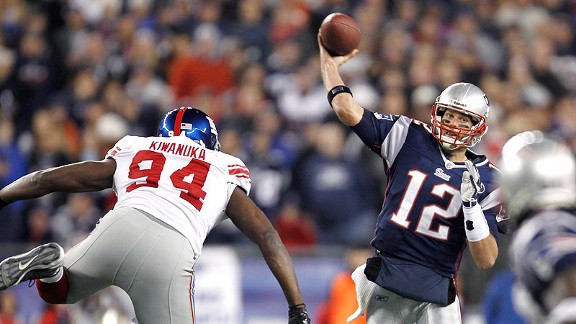 AP Photo/Winslow TownsonThe Patriots will be difficult to beat if Tom Brady plays to potential against Mathias Kiwanuka and Co.
The Patriots enter Super Bowl XLVI as a three-point favorite against the Giants. But public perception seems to be that the wrong team is favored, with reasons ranging from Rob Gronkowski's high ankle sprain to Eli Manning's strong fourth-quarter performances this season.
While it's fascinating that fans are attempting to moonlight as oddsmakers in advance of the big game, the discussion has left much to be desired in terms of accuracy. So Page 2 debunks these myths of public perception about the Super Bowl XLVI point spread.
Myth No. 1: Gronkowski's injury is serious enough to significantly impact the line.
The overreaction to Gronkowski's injury is similar to the Y2K panic -- the world is coming to an end!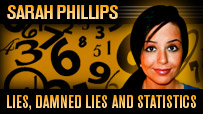 It's true that Gronkowski is Tom Brady's top target in the red zone, having caught 17 touchdown passes during the regular season and three more during the playoffs. Still, Gronkowski's injury is only worth a point toward the spread. That's not to say his impact isn't crucial to New England's game plan, but most injuries or player limitations only shift the line by half a point to a full point, if at all.
The generic lines at most sports books, which were set prior to the conference championship games, favored a healthy Patriots team by four points over the Giants.
Myth No. 2: If Gronkowski doesn't play, the Giants should be favored to win.
Brady is the only player on the Patriots roster who's worth more than one point toward the number. He's the only player whose absence could move the line enough for the Giants to become the favorite.
Obviously, if a combination of New England's featured players miss the game, then New York could become the favorite. But that scenario is highly unlikely.