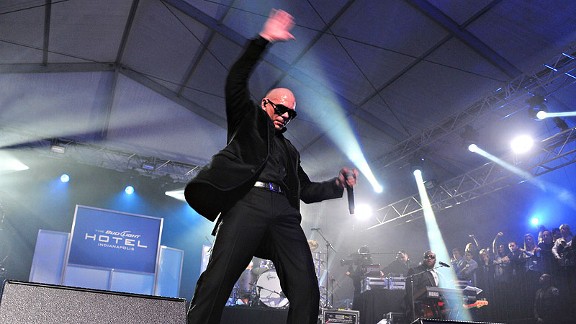 Stephen Lovekin/Getty Images Pitbull performs at the Bud Light Hotel, which also featured concerts by 50 Cent and Lil Jon.
INDIANAPOLIS -- It was the last day to rally before the Super Bowl and all of the parties brought enough horsepower to last into the early morning. We took laps around Indy to bring you a taste of the party action. From EA's Madden Bowl Thursday to the ESPN and Playboy parties Friday. Thanks for joining us on our ride and let the game begin!
Leather and Laces
Why that title: Isn't is obvious? There's a dress code here, people, and if you've got the body, you better work it, honey.
Where: The rooftop of Regions Bank tower in downtown Indianapolis -- which was one of the coolest venues of the week. There were private VIP rooms that moneymakers shelled out $25,000 or more to book and entertain guests and clients privately. Another cool thing: those with VIP access got to travel in and out of private lounges -- a champagne lounge, a Belvedere vodka lounge, etc. It's the little things.
Performers: They had more Playboy than the actual Playboy party. Well, they had the Playboy bunnies we know of, anyway. The original girls next door -- Kendra Wilkinson, Bridget Marquardt and Holly Madison hosted the Saturday night party. This was the second night of Leather and Laces, actually. The night before hosts were Carmen Electra, Jenny McCarthy and Jennifer "JWoww" Farley.
Celebrities we saw: Hank Bassett, Wilkinson, Marquardt and Madison.
Celebrities who were confirmed, but we didn't spot: We didn't see too many football players on the prowl on Saturday night, but understand athletes were swarming the event the night before.