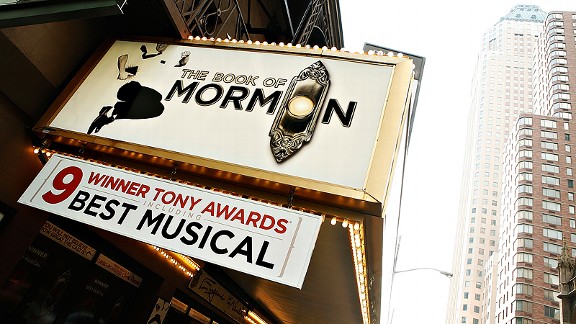 John Lamparski/Getty ImagesOur humble correspondent decided to skip the Super Bowl and head down to Broadway instead.
I've spent Super Bowl Sunday at the game (XXVI), on an aircraft carrier (XXXVII), on a plane (several times), on a beach, on a treadmill with the game playing on TV, at numerous parties and, of course, watching at home from my couch. But this year, I spent Super Bowl Sunday in perhaps the most anti-Super Bowl way of all:
Attending two Broadway musicals. Yes, my man card has already been suspended.
The first of these was the matinee performance of "Priscilla Queen of the Desert," which is about three drag queens cruising the Australian Outback in outrageous glittery costumes and wigs while singing and dancing to such tunes as "I Will Survive," "It's Raining Men" and "Like a Prayer." It was a little like how I imagined Madonna's halftime show, only less flamboyant. (And the dancers are so buff and impossibly athletic they probably violate the NFL's policy on performance-enhancing substances.)
The second show was "The Book of Mormon," the Tony-winning musical by "South Park" creators Trey Parker and Matt Stone. This show is normally an impossible ticket. The women in front of my wife and me were told that the next show with two seats available together is in October. But the beauty of Super Bowl Sunday is all sorts of people cancel plans to watch it, especially when the local team is playing. If you ever want to get a difficult ticket or reservation, just plan it around the Super Bowl.
Thus, "Priscilla'' tickets were half price, and with "The Book of Mormon" showtime coinciding with the first quarter of the Super Bowl, I was able to get tickets by standing in the cancellation line for only about 30 minutes. Others were shut out, though. Remember: Despite all the hype about the ratings, almost two-thirds of Americans don't watch the Super Bowl.
I was initially thankful for the couple who turned in the tickets, but then I felt a little sorry for them, imagining that two New Yorkers had purchased the tickets months in advance and eagerly awaited the show, only to have the Giants make the Super Bowl and provide a most unpleasant dilemma (as well as likely domestic strife): the game or the show?
Even though the Giants won, they made the wrong choice. "Book of Mormon" is a brilliant show, easily the funniest on Broadway since "The Producers." I give it a full V stars out of V. Plus, it ended early enough that we were able to duck into a nearby bar and watch the Giants' winning touchdown drive.