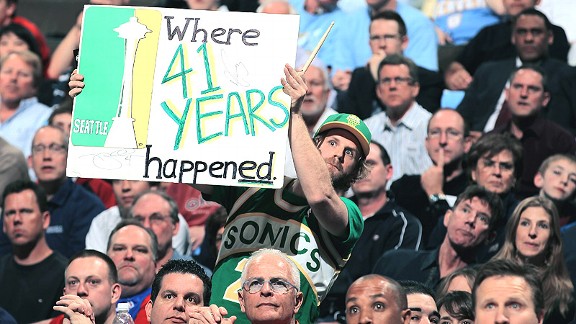 Doug Pensinger/Getty ImagesMany Sonics fans want a team back in Seattle, but not at the expense of another NBA city.
If you live up here in the Northwest and are a sports fan, there is no doubt then that you probably became very aware of the news that The Seattle Times broke on Saturday -- that secret talks have been under way since last spring for a new downtown NBA/NHL arena.
Yes, Seattle, it looks like we might be closer to getting our Sonics back than we had previously thought. At least, this is what the talk and Monday sports-radio chatter suggested -- that we are suddenly ecstatic at the thought of having the NBA back to its rightful place … up here.
But later in The Times piece, there seems to be a hint that the Sacramento Kings are being watched closely -- the organization might not survive financially -- and thus be a natural contender for a move.
Oh. Now that changes things a bit.
Look, Seattle was treated extremely poorly in that brutal Clay Bennett takeover and eventual straight-up hijack of our beloved NBA franchise. The Sonics are Seattle. The team is now dressed up as something called the "Thunder." There is no hiding that Seattle got completely blindsided.
I could never in good conscience or with a modicum of smarts blame the average OKC resident and fan of basketball. They have showed they are good fans of the game -- and I bet some even have a little regret about how they came about their NBA franchise.
Last spring -- when Anaheim was making a sort of play to get the Kings -- I wrote about how I thought this was a raw deal for fans up there in the Central California Valley, and that Sacramento supporters should fight hard to somehow keep their team. I also believe that fans should be given a say in what happens to their teams. We do, after all, finance the whole dang deal -- don't we?!
• Click here to read the rest of musician Duff McKagan's weekly column on ESPN Music.