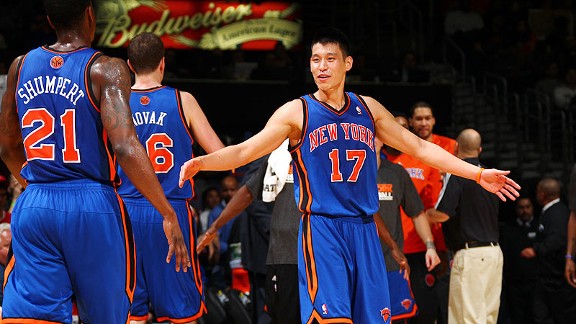 Ned Dishman/NBAE via Getty ImagesHarvard alum and budding star Jeremy Lin is blowing up on the court and in the social media world.
Just a week ago, Knicks guard Jeremy Lin was a relatively obscure commodity.
His Twitter account had 21,267 followers, and he joked in a tweet that he was often mistaken for a trainer by Madison Square Garden security guards.
Now, after brilliant performances against the Nets, Jazz and Wizards in the absence of Knicks forward Carmelo Anthony and center Amare Stoudemire, the Harvard alum has more than 80,000 followers ... and counting.
His sensational week has also spawned Twitter trends of #Linning, #Linsanity and #Linsane.
In a salute to of the rise of @JLin7, Page 2 would like to catch you up on what you've missed while you weren't following Jeremy Lin:
• Harvard math skills debunk clichéd compliments
• Harvard is better known for its law school than arts and crafts
• Video game developers have no idea what Lin looks like
• First American-born NBA player of Chinese or Taiwanese descent
@JLin7, Bay Areaaa, to know Him is to want to know Him more