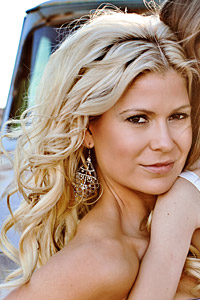 Courtesy of Lindsey Vanden BoschLindsey Vanden Bosch says today is a day for men to spoil women.
With Valentine's Day Tuesday, Lindsey Vanden Bosch -- who was married to Detroit Lions defensive end Kyle Vanden Bosch for 10 years -- gives Page 2 readers tips on making it a great day.
"It's a Hallmark holiday and I totally understand the pressure you are under," Vanden Bosch said. "Don't get upset about the day and make the most of it."
• "Put some thought on the gift and focus on the little things and don't worry about buying something expensive. It could be a card or something small throughout the day."
• "I know most men don't cook but give it a shot. It will mean a lot."
• "Take some of the burden off her and take care of the kids or do things around the house to help out."
And for women?
"The holiday is man's holiday for a woman!," said Vanden Bosch, who is now single and looking for love again. Vanden Bosch is using executive matchmaking service, Kelleher International, to find someone. "What are you going to buy him for Valentine's Day? A shirt or a watch? Men shouldn't expect a gift! This is their time to spoil us!"