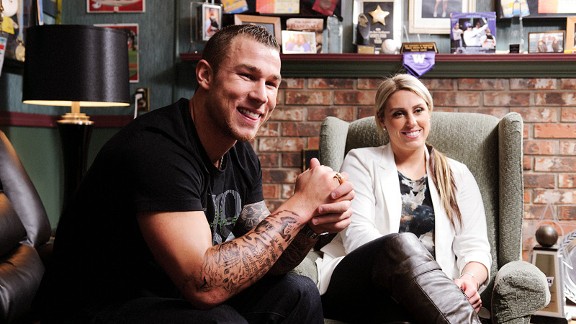 Hubert Kang for ESPN.comBrett (Blue Jays) and Danielle Lawrie (USSSA) have reached top levels in their respective careers.
To fully appreciate what drives Danielle and Brett Lawrie, begin with the cornhole story ...
Cornhole, for the uninitiated, is a game where competitors take turns tossing beanbags into the holes of a game board. One such game board was at the splendid beachfront house Brett shared last spring training with Toronto Blue Jays teammates J.P. Arencibia and Travis Snider. Danielle and parents Russ and Cheryl were visiting her younger brother there one evening when Russ noticed the cornhole game board. Pretty soon, someone suggested a series of games pitting Danielle and Russ against Brett and Arencibia with a couple bottles of Gray Goose vodka on the line for the winner
Now, Danielle is a great softball player, but Arencibia was still confidently yapping that he and Brett would win easily. After all, he's a major league catcher and Brett is a third baseman -- they get paid to throw things! Plus, they also had played all spring and hadn't lost a game to anyone. Now, they were competing against a woman and her father, who had a bad hip and, Danielle assured him, wasn't very good anyway. So, the challenge was accepted and Arencibia continued boasting while Russ sensed Brett's blood pressure slowly rising because he knew how this was going to play out.
Danielle and Russ took the first game in a rout. And why wouldn't they? Danielle is not a major league baseball player, but she is a professional softball pitcher (she plays for the USSSA Florida Pride), so she not only gets paid to throw things, but she also gets paid to throw them underhand. This is a big advantage in cornhole.