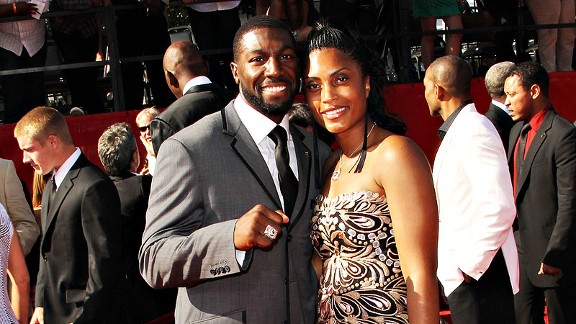 Frederick M. Brown/Getty ImagesGreg Jennings proposed to Nicole during a Mother's Day dinner with their families and friends.
As a woman, I am wired to let out a big "awwww" for certain moments in life. A baby's wobbly first steps, a newly drafted NFL player hugging his mother and, of course, the story of someone's marriage proposal. Every proposal is special in its own way.
To honor this Valentine's Day's celebration of love and excess sugar, I decided to dig into the personal lives of some of my favorite athletes and learn just what happened the day they went from "unavailable" to "officially off the market."
Nicole and Greg Jennings
Packers wide receiver Greg Jennings first became smitten with his future bride, Nicole Lindsey, during an elementary school band performance. They were both participants -- she played the clarinet and he the cornet. The sixth-graders wound up being friends in high school and dated in college. Greg proposed in 2005.
Nicole Jennings on the proposal: "It happened on a Mother's Day and actually blindsided me. I didn't even think it would ever happen really, although everyone else knew about it. The weekend of the proposal, probably the Friday or Saturday, I was trying to get in with my hairdresser, but the spots were all filled and I had to make an appointment for the following week. Apparently Greg called my hairdresser and told them he was about to propose and he needed them to find me a spot. I didn't really know why he got me the appointment, but figured my hair must have looked really bad if he was trying to get it done for me.
"Then Sunday we went to church as usual. Afterward everyone came to the house and it was Mother's Day so I didn't really think anything of it. But a couple of the families from church came by, and looking back, a couple of people brought their video cameras. So it was time for dinner and everyone was giving their mom presents. Then Greg and his siblings played a video. They were on the video talking about how much they loved their mom, why she's so important and the things she has done for them. At the end Greg did his spiel, then segued into someone else who had done a lot for him and he kept saying 'she, she, she.' I was thinking he was still talking about his mother, but in reality he was talking about me. To end the video he said, 'That's why I want to know if SHE will be my wife.' And then he got down on his knee with a ring."