Extreme sports legend Travis Pastrana has a message for Jimmie Johnson, and it's right there on his uniform and NASCAR Nationwide Series No. 99 Samsung Boost Mobile Toyota: an image of his monster truck running over Jimmie Johnson's No. 48 Sprint Cup Chevy.
"We have all kinds of random stuff on the suit. It might be awkward. Jimmie is like my hero. He's someone I've looked up to my whole life and known for a long time. I'm not making fun of him or anything like that," Pastrana said Thursday at Daytona 500 Media Day.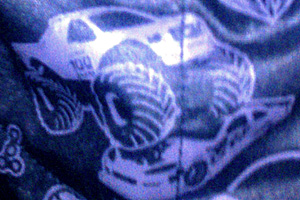 Bill Speros for ESPN.comJimmie Johnson, meet Travis Pastrana's logo.
Johnson, who admits to being a big Pastrana fan, enjoys being the marked man, even though the two won't be racing head-to-head on Sundays.
"I think it's great. He's a nut," Johnson said. "We've been great friends over the years. I love being the marked guy. It doesn't matter if it's Travis coming in from a different background … it's cool."
Yes, the background's pretty different: a career that included soaring 269 feet partway across Long Beach on New Year's Eve, racing motorcross, Rally America and World Rally events, a Ferrari in Rolex 24 Hours of Daytona and jumping out of an airplane without a parachute.
But Pastrana is restrained in his hopes for his limited 2012 run on the Nationwide Circuit, where he'll join Danica Patrick as a rookie.
"My goal is simple: to not make a fool out of myself in every race, which will probably happen," said Pastrana, who will also race in the K&N Pro Series East circuit this year.
Well, he has some more goals -- especially after breaking his right foot and ankle last July during the X Games while attempting a "720 Toilet Paper Roll."
"Stay healthy and don't suck," he said.