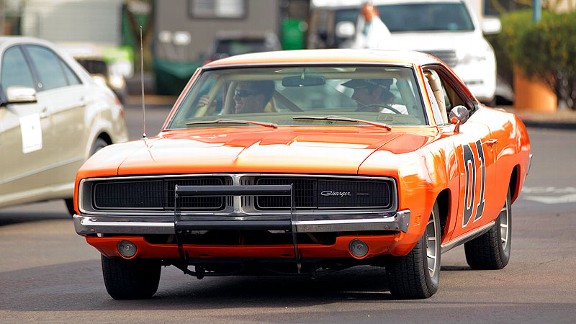 Allan Henry/US PresswirePerhaps NASCAR could make the General Lee take a different political stand instead of silencing it?
Reminiscent of Monster Jam's recent decision to punish trucks for dressing as Revolutionary War redcoats, NASCAR has informed PGA golfer and 'N Sync reject Bubba Watson that he cannot drive a "General Lee" show car around the track at a March 4 Sprint Cup race.
While NASCAR is understandably trying to distance itself from the Confederate flag on the car's roof, perhaps the organization should rethink this. Maybe it could make some minor modifications to the car to help form a bridge between a culture of intolerance and the more progressive, inclusive image that the racing series has been trying to cultivate. For instance:
• Instead of the horn playing the first line of "Dixie," it could blurt out short passages from "The Audacity of Hope," or maybe Deniece Williams' "Let's Hear It for the Boy."
• The Confederate jack on the roof could be swapped out with an image of Desmond Tutu giving a thumbs-up.
• The car could culminate its laps by Eskimo-kissing a Volkswagen Beetle.
• In an encouraging show of symbolism, the car could smash through giant signs reading INTOLERANCE, TEEN PREGNANCY and TRANS FATS.
• The car's defiant orange paint job could be swapped out with a more placid mauve.
• At the end of its lap, a guy dressed as Ulysses S. Grant could flatten it with a steamroller.
I think NASCAR fans would love it.