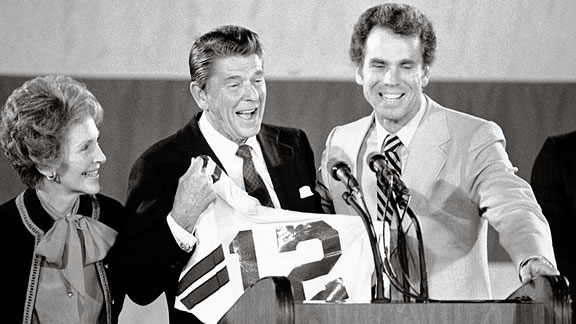 AP PhotoRonald Reagan seemed to like this Roger Staubach jersey a little bit more than an NBA ref's uniform.
Whether they were Democrats, Republicans or Independents, one thing all Presidents seemed to have agreed on was their love of sports. It has always had bi-partisan support across all party lines. In honor of President's Day, it is time to celebrate the Presidential love of sports. Here are some all-time great Presidential quotes about sports.
1. "Politics is like football. If you see daylight, go through the hole."
-- John Fitzgerald Kennedy
2. "In life, as in a football game, the principle to follow is: 'Hit the line hard, don't foul and don't shirk, but hit the line hard.'"
-- Theodore Roosevelt
3. "You have to add a little air into the war room now and then."
-- Dwight Eisenhower, on his love of golf
4. "It's a lot tougher to be a football coach than a President. You got four years as president, and they guard you. A coach doesn't have anyone to protect him when things go wrong."
-- Harry Truman
5. "Congress."
-- Lyndon Baines Johnson, asked his handicap when he was visiting the Masters
6. "You mean there aren't enough people mad at me already?"
-- Ronald Reagan, on being presented with a referee's uniform during a visit from the NBA Commissioner
For more sports quotes, check out my site.