Robert Griffin III, meet your new teammates: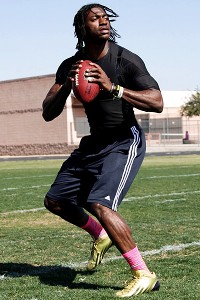 AdidasRG3 has some new kicks.
Dwight Howard, Derrick Rose, Von Miller, Justin Upton, Lionel Messi …
OK, so this obviously has nothing to do with the NFL franchise for which the reigning Heisman Trophy winner will be playing; that process has already started, will be vetted further at this week's scouting combine, and determined in April's draft.
Instead it's about Griffin signing with adidas. He did that Tuesday, joining the aforementioned stars at the shoe company, along with numerous other NFLers including the New Orleans Saints' Jimmy Graham, the San Francisco 49ers' Frank Gore, the Miami Dolphins' Reggie Bush and the Houston Texans' Mario Williams.
In addition to developing shoes and apparel for the former Baylor quarterback, adidas expects to have RG3 take part in numerous advertising and marketing campaigns going forward.
And since this is the company that brought us comedian Ken Jeong's lady pyramid, C.J. Spiller and Eric Berry's chainsaw shenanigans and Rose's run through a bullfighting ring, we can only imagine what Griffin might be up to.