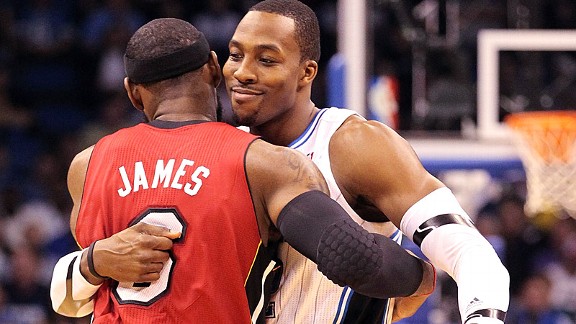 Sam Greenwood/Getty ImagesWhat do you think LeBron James will say this weekend to Dwight Howard?
What a strange weekend lies ahead for Dwight Howard.
On the surface he will be Orlando's unofficial host for the NBA All-Star festivities, standing on the front porch with his engaging grin and open arms. But we all know his bags are packed and placed right behind the front door.
As was said in Page 2's "Party of Five"Howard is hosting the dinner party while divorce proceedings continue. A difficult time.
Howard is reluctant to talk to the media and, truthfully, what has he to say since he told the Orlando Magic that he wants out? The Magic, with the support of most fans, keep trying to say something to change his mind.
But this week all the game's stars and power-brokers will be in Orlando to whisper into his ear. What will they say in hopes of luring him to one NBA city or another? The possible answers to that question are the basis for this week's reader-generated list. To wit:
Top 10 Things NBA Stars Are Whispering To Dwight Howard
10. A Laker: "Yo, Superman. Stan Van Gundy is your Kryptonite. But your Lois Lane is waiting for you in Hollywood with your championship ring," said Naveen B. of San Dimas, Calif. (Kobe Bryant is Lois Lane? Kobe, we didn't say that, Naveen did.)
9. Hollywood agent: "If we can make Lindsay Lohan and Heidi Montag stars, imagine what we can do for you," said Adam T. of Orlando, Fla.