Sentient muscle wagon Albert Pujols does not like being called "El Hombre" out of respect to one of his heroes, Stan "The Man" Musial, with whom he became acquainted during his 11 seasons in St. Louis. But the marketing department of the Los Angeles Angels didn't get the message, and now they've stirred the goateed slugger's wrath by erecting 20 "El Hombre" billboards in Los Angeles, Orange, and Riverside counties.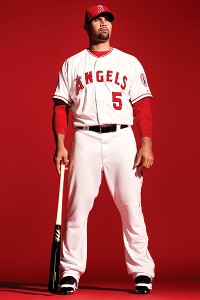 Art Streiber for ESPN The MagazineAlbert Pujols doesn't like being called "El Hombre." You wouldn't like him when he's angry.
The big man has spoken, and it's due time he got a new nickname.
So what's it gonna be? We've got a few suggestions of our own, but feel free to pitch your own ideas in the comments. The best sobriquet wins a day strapped to Pujols' chest in a baby carrier.
La Hombrette The Sultan of Adjusted OPS The Baron of Bald Poo Gehrig El Puque Pookie Blaylock Winnie the Slugger Slug Bug Rollie Dingers The Anti-Urkel The Twitching Pectoral Your Pal Al The Bulldozer Who Wished To Be A Boy Twilight: Quaking Brawn Ol' Sequoia Fingers Jer-bert Lin-jols