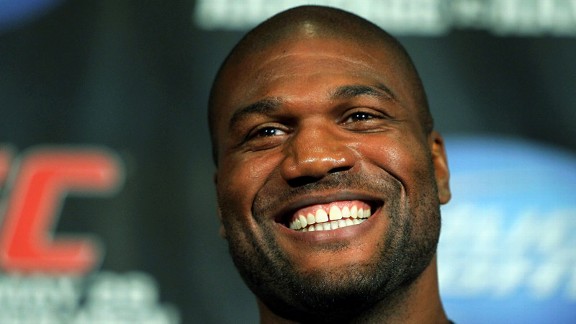 Josh Hedges/Zuffa LLC/Getty ImagesRampage Jackson squares off against Ryan Bader in Saturday's UFC 144 at Tokyo's Saitama Arena.
Quinton "Rampage" Jackson became a mixed martial arts superstar with his stunning first-round knockout of former UFC poster boy Chuck "Iceman" Liddell at UFC 67 in 2007. Known for speaking without a filter, Rampage ascended to mainstream popularity as the UFC did the same.
Jackson's stern attitude and fierce looks landed him the role of B.A. Baracus in the 2010 film "The A-Team." His personality has also attracted more than 290,000 followers on Twitter, behind only Anderson Silva and Georges St-Pierre in the UFC ranks.
But simply being a tough guy isn't enough of a reason to follow someone on Twitter. Sure, Jackson's Twitter feud with Strikeforce fighter King Mo generated headlines, but the man behind the Rampage persona is the featured attraction of @Rampage4real.
As it turns out, Jackson isn't such a tough guy outside of the octagon.
On this Follow Friday (#FF), Page 2 honors the softer side of Quinton "Rampage" Jackson:
• Promoting cultural diversity
• Recreating the Hart Foundation
@Rampage4real, There's nothing wrong with fighting for the right things -- Orange County