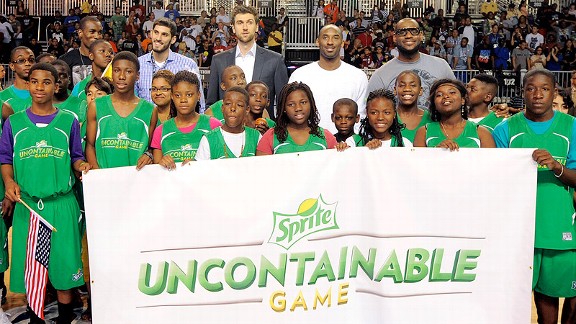 Jack Dempsey/AP ImagesIn back, left to right: NBA players Serge Ibaka, Omri Casspi, Andrea Bargnani, Kobe Bryant and LeBron James have their eyes on the global game.
ORLANDO --- Kobe Bryant and LeBron James are teaming up.
No, no -- not in basketball terms; the two All-Stars will continue to be on separate NBA teams. But they're working in tandem as part of a new, global initiative that Sprite announced Friday, hours before the Sprint Celebrity Game.
The two players -- along with Andrea Bargnani, Al Horford, Omri Casspi and Serge Ibaka -- will scout out 24 amateur players from 27 countries across the world to play on one of two teams in the Sprite Uncontainable Game at the NBA All-Star 2013 in Houston.
How will they pick their players?
Based on the NBA player's own personal playing styles, of course.
"Well, we're more of the chess players, I guess you could say," Bryant said of his team, Intense. "We're more of the thinkers, kinda analytical approach to the game; Xs and Os, you know, that kind of stuff."
James says he prefers a more feisty player for his team, Sudden: "Aggression. And a team player. You be aggressive, but you also play as a team," he said of his dream player for the containable game. "That's number one."
Bryant says that he thought the idea was a fun concept and jumped to get on board, given the worldwide appeal of hoops.
"Basketball is such a global sport and it's a great opportunity for kids all over the world to showcase what they got," Bryant said. "So what better platform to do it than the Uncontainable Game?"