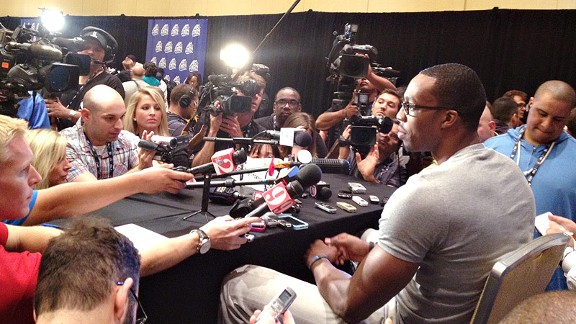 Zach McCann Check out the media crowd surrounding Dwight Howard this weekend in Orlando.
ORLANDO, Fla. -- It's been a pretty lonely weekend for Dwight Howard. The Magic center has slumped around All-Star Weekend almost unnoticed -- no autographs, no fanfare, no media following him around. Word is the poor guy spent his Friday night curled up in his Central Florida mansion reading "Hunger Games."
OK, not really. It's actually been the complete opposite.
As an Orlando star and leading vote-getter, Howard is the unofficial host of this year's NBA All-Star Weekend. He's barely slept, hosted a party every night (even two on Friday!), made numerous appearances at local shoe stores and charity events and constantly been swarmed by media.
That attention peaked at the weekend's first official media availability session. All 12 Eastern Conference players sat at desks in a large conference room at a Hilton in Orlando, with the media free to visit any player they desired.
Most desired Howard, though -- and it wasn't close.
Carmelo Anthony, whose booth stood a few feet to Howard's right, gazed over the mass and laughed. "Your turn," he said.
More than 60 reporters formed a thick "C" around Howard, filling out to five or six reporters deep. There were 15 voice recorders sitting on the table in front of Howard, 11 TV cameras pointed at him and 11 industrial microphones jutted into his face. And there were even more portable cameras and smartphones and some media members just listening.
There were times Howard didn't know who was asking him a question; he'd have to search among the curious faces for someone with their eyebrows raised.
At the end of the 29-minute session, Howard had been asked 64 questions. Ten of those questions directly or indirectly referred to his free agency this summer. It would've been more, but Howard made it clear he wouldn't discuss the subject this weekend.
The marathon presser culminated with a 10-year-old boy asking Howard questions as part of an NBA promotion. The child asked Howard about his hobbies and his favorite video games. Then, after Howard spoke of his love for "Call of Duty," the boy began his final question with the words, "There have been a lot of trade rumors lately," before asking Howard to come to San Antonio, the boy's hometown.
Howard can't get away from it. Everyone wants him.
He hosted another party on Saturday night, this one with Lil Wayne at an airport hangar. He practiced in the morning, performed community service in the afternoon and then took in the All-Star festivities on Saturday night before the party.
It's been a nonstop weekend for Howard, who says he's been sleeping only a couple of hours per night.
He loves being busy, but it's safe to say after this weekend, he may take a couple of nights to himself and decide his future.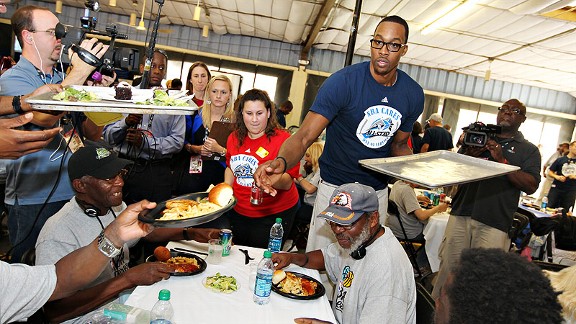 David Sherman/NBAE/Getty Images Dwight Howard serves food during 'Learn' NBA Cares Day of Service at the Coalition for the Homeless.