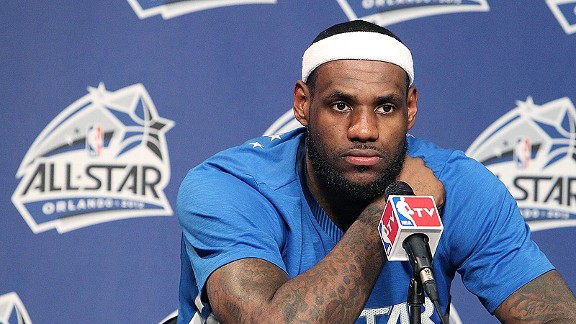 Bruce Yeung/NBAE/Getty ImagesLeBron James might want to consider entering the Witness protection program to avoid all the haters.
Let's take a quick vote: What do you think comes easier for LeBron James: getting the ball to go into the basket time and again -- or getting simple concepts through his skull?
Hmm, only four of you are logged into Skype (and only three of you are at least partially clothed), so we can't count this as a scientific poll. But sadly, the end of Sunday night's NBA All-Star Game seems to show us that James is capable of just-good-enough greatness, but still can't make the leap to MJ-greatness.
On paper, James and Kevin Durant made the same contribution for their respective All-Star teams -- each scored 36 points. Yet Durant was crowned MVP, while James was the goat. Not a good goat that eats your moldy garbage for you, either. One of those sports goats that makes you wonder when James will ever get it.
Thanks to James' improbable, freewheeling gift turnover in the final seconds of the East's 152-149 defeat, LeBron is the subject of another round of "He'll never do anything great in crunch time" humiliation.
But imagine: What if LeBron hit a 3-pointer and forced overtime? He had already hit six 3-pointers, and a seventh would have been an All-Star Game record (which, hello, is exactly the sort of stat MVP voters love to take into consideration). That's 39 points on the night. (NOTE TO READERS: Insert golf clap here.)
Then, what if he scored at least four points in OT? That's 43 points, which would have broken Wilt Chamberlain's 50-year-old All-Star Game record. (NOTE TO READERS: Insert rousing standing ovation here.)
It's another prime example of how James is supposedly incapable of performing heroics by himself, how The Chosen One feels compelled to choose other people to do the dirty work of nailing the baskets that count. (NOTE TO READERS: Here's where you BOOOOOOOO!)
But maybe a fake award will boost James' confidence. We hereby declare that the Page 2 NBA All-Star MVP honors will be shared by Durant and James, just as Shaq and Kobe shared the real All-Star MVP award in Phoenix in 2009.
Here's the catch: We won't make two trophies. There can be only one, and whoever wins this year's NBA Finals between the Thunder and Heat gets dibs.