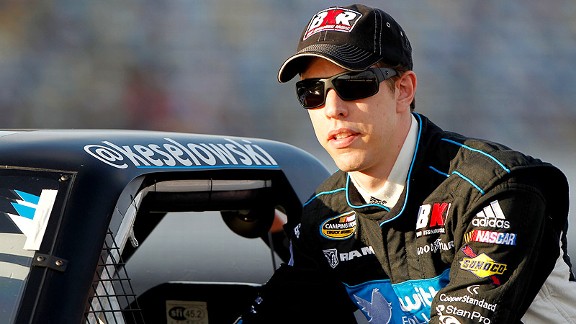 Tyler Barrick/NASCAR/Getty ImagesBrad Keselowski (@keselowski) has been social-media savvy, but took it to a new level Monday night.
Among the greatest moments in social media history, we have Shaq's first tweet, the Hollywood conversation between Sean Parker (Justin Timberlake) and Mark Zuckerberg (Jesse Eisenberg) when Parker advised the Facebook founder to "drop the 'The,'" and Monday night's Daytona 500 -- specifically this photo tweeted by Brad Keselowski.
The photo blew up on Twitter after the jet dryer truck blew up when it was rammed by Juan Pablo Montoya. The race, which finished at about 1 a.m. ET, was red-flagged for two hours as NASCAR and Daytona International Speedway officials worked to extinguish burning jet fuel and clean up the charred asphalt surface. Matt Kenseth won the race, but Keselowski emerged as the star of the night, despite crashing late and finishing 32nd.
The delay forced the drivers to get out of their cars and, with some substantial time to kill, Keselowski took to Twitter -- responding to various queries from fans. Twitter handles were a staple of the Fox broadcast both during Sunday's rainout and Monday's delayed race. Each time a driver, announcer or official was mentioned, those who were on Twitter had their handles listed below their names. Keselowski began the night with about 60,000 followers and had topped the 212,000 mark by Tuesday afternoon.