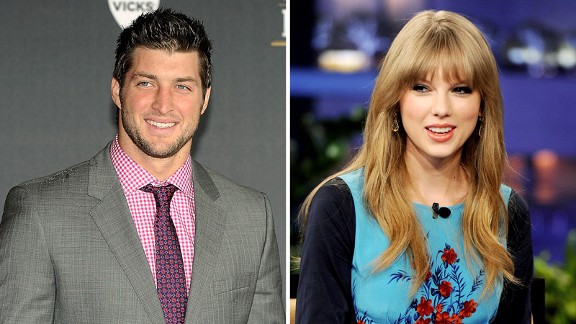 AP Photo/Getty ImagesWhat could be better than a Tim Tebow-Taylor Swift union? A Tebow-Swift album of duets, of course.
Broncos quarterback Tim Tebow and country music star Taylor Swift reportedly dined together Friday night in Los Angeles.
Naturally, speculation is abuzz around the Interwebs as to whether Tebow and Swift are an item. But Page 2 has already moved on. Not only do we assume the couple is already madly in love ... but we're already imagining the two of them recording an album together:
Here are some likely song titles:
• "316 Reasons I Love You"
• "S-E-C > S-E-X"
• "My Te-beau"
• "Never Your Gisele"
• "You Won My Sugar Bowl"
• "You Complete Me 46.5% of the Time"
• "Don't Circumcise My Heart"
• "Every Country Girl Needs a Horse"
• "Like an Actual Virgin"
• "The Devil Went Down to UGA"
• "Elway or the Highway"
• "It Was Ball, and It Was Juice."
Steve Etheridge, DJ Gallo and Thomas Neumann contributed to the delinquency of this article.