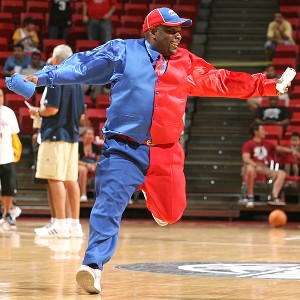 Jack Arent/NBAE/Getty ImagesMight Clipper Darrell run off to the Metroplex?
One of Darrell Bailey's favorite stories about being "Clipper Darrell" was when Dallas Mavericks owner Mark Cuban approached him at a game in 2008 and offered him a job to move to Dallas to become "Maverick Darrell."
It's story he re-tells in many of his interviews and is chronicled on his official website.
While a job offer was never officially made, Cuban said that he would gladly accept Bailey if he wanted to make the move to Dallas after the Clippers asked him this week to no longer refer to himself at "Clipper Darrell."
"My offer still stands," Cuban wrote in an email to ESPNLA.com. "If he wants to come down to Mavs games and dress in Mavs colors and yell, the tickets are on me. No payment. No travel. Just good tickets."