HOLLYWOOD, Calif. -- For the past four years Francisco "Chico" Herrera has carried equipment bags, packed and unpacked lockers, polished spikes, washed cars, manned the foul lines at Dodger Stadium, and organized the bats and helmets inside the Dodgers' dugout.
His job description goes something like this: If a player needs something, he gets it. It is thankless, detail-oriented, unglamorous work.
Herrera is a bat boy. And until a few months ago, it was the greatest job in the world.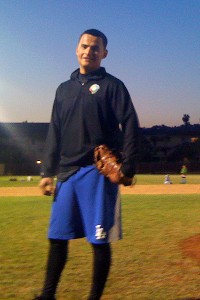 Ramona Shelburne/ESPNLA.com "Chico" Herrera's arm and glovework earned notice among Dodgers players.
"It's awesome, there's nothing better," he said earlier this week. "I'll never forget the first time I saw them come off the bus outside the stadium. I was 18 years old, my first day on the job, and their bus came in the lot from spring training. I saw 'em, and they were so tall. I'd never seen them up close. They all gave me handshakes and stuff. I was just speechless. It was the best day of my life."
It's hard to know when the next "best day of your life" might be coming, but if things went as Chico hoped Thursday in Arizona, he'd be hard-pressed to top it.
What's so special about Thursday?
That story begins six months ago during a batting practice at Dodger Stadium. For years, Dodgers players have commented to him that he had a good arm or made some good, athletic plays while they were shagging fly balls during batting practice. Herrera took the compliments in stride. He'd been the best player on his team at Hollywood High and was now the starting shortstop at Valley College in North Hollywood. But what did that matter out here on a big league diamond?
This time one Dodger went a step further.
"Jon Garland and I were playing catch in the outfield," Herrera said. "He was hurting at the time, but he could still play catch and he's like, 'You really do have a good arm. When are you going to try out?'"
Try out?
"He was like, 'Let me talk to De Jon for you [De Jon Watson is the Dodgers' assistant general manager for player development]. I'll get you the tryout, but if you make it, I get to represent you.'
"I thought he was kidding."