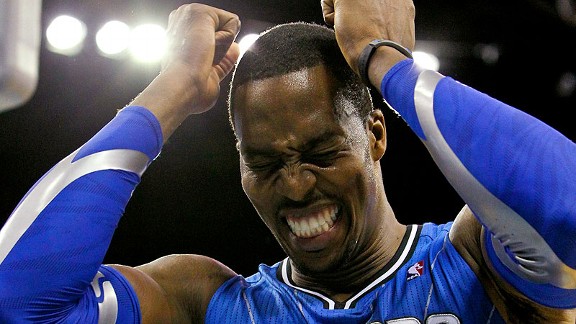 Derick E. Hingle/US PresswireDwight Howard's contract situation puts him under a brighter spotlight as the trade deadline nears.
The Orlando Magic will be under the microscope the next two weeks as the NBA's March 15 trade deadline approaches. Superstar center Dwight Howard, a free agent-to-be, has stated his desire to leave Orlando, while ownership is hopeful Howard will have a change of heart and re-sign with the team.
When a franchise player leaves his longtime team as a free agent, the star athlete often takes the brunt of the public relations backlash -- just ask LeBron James. Even Howard, who is adored by fans for his good-natured ways on and off the court, hasn't been immune to bad publicity this season.
But is it warranted? Have the trade rumors made us forget about the good in Howard? On this Follow Friday (#FF), get reacquainted with @DwightHoward.
After all, he's still the same guy who put rookie Justin Harper in a timeout.
He's still the comedian snapping pictures of celebrity look-a-likes:
He's still the fun-loving big man who is unafraid to participate in fads such as Tebowing and planking.
He's still a guy who can laugh at anything ... and I mean, anything.
And he's still a fan favorite with the kids.
@DwightHoward, After the ring! Orlando, FL