The Dodgers signed two players from their open tryout Thursday.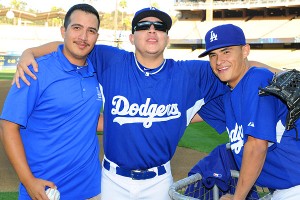 Jon SooHoo/LA Dodgers Francisco Herrera, right, stands with fellow Dodgers bat boys Sergio Garcia, left, and Javier Herrera before a 2010 game.
Neither of them was longtime bat boy Francisco "Chico" Herrera, who was invited to the tryout after impressing Dodgers players enough over the years that former pitcher Jon Garland recommended him to the team's front office last season.
"He came to the tryout with the same energy and passion we've seen at the Stadium," Dodgers assistant general manager De Jon Watson said. "He ran well and he showed us some some arm strength. he still has more work to do with his swing from both sides of the plate though."
While Herrera did well enough to make it to the scrimmage at the end of the session, in the end the Dodgers declined to offer a contract. Instead, they signed 27-year-old right-handed pitcher Blake Johnson -- originally drafted by the club in 2004, who played with the Rockies Triple-A affiliate last season -- and Brandon Mims, a 19-year-old switch hitter who played in the Blue Jays organization in 2010.
• Click here to read the full story of Herrera's tryout, on ESPNLA.com.