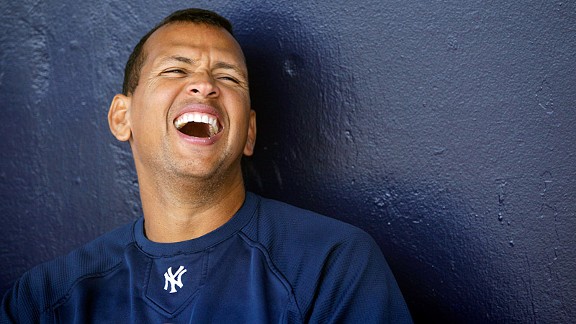 AP Photo/Matt SlocumThe New York Yankees shared some laughs, all while building team camaraderie in Tampa.
The Yankees took some time to get to know each other last Thursday by taking a team bonding trip to an improv club in Tampa, where pretty much everyone, from rookies to veterans, went out of their comfort zones and participated in comedic skits.
"Oh, to be a fly on the wall!" you're probably thinking, because it's amusing to see very serious elite athletes participating in activities traditionally reserved for mortals. Lucky for you, Page 2 had an undercover source* documenting all the hilarious antics. Here's what we saw.
* Two 9-year-olds stacked on top of each other in a trench coat wearing a Yankees hat.
---
A-ROD: I am going to improvise a scene. Can I get a suggestion for an occupation, a place and an activity?
RUSSELL MARTIN: Zookeeper!
BOONE LOGAN: Funeral parlor!
MICHAEL PINEDA: Water balloon fight!
A-ROD: Did I hear dashing sports hero, a supermodel party and gazing seductively at strangers? OK, here goes nothing!
(A-ROD spends the next 20 minutes flexing and winking at imaginary women, occasionally saying things like, "Please, no pictures." The non-roster hopefuls cheer hysterically.)
---
(JOBA CHAMBERLAIN and C.C. SABATHIA are instructed to improvise a scene using the prompts "Velveeta" and "labored breathing sounds." Their performance is flawless.)