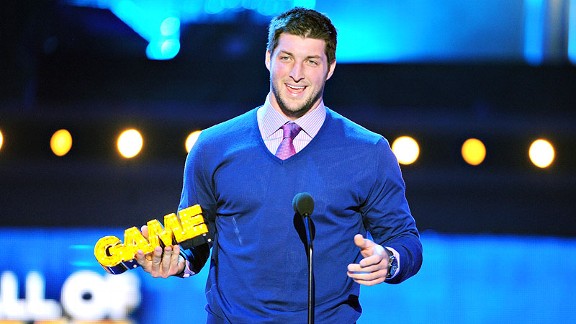 Jordan Strauss/Getty ImagesTim Tebow appearing on "The Bachelor" would be a tremendous event in the eyes of Page 2.
Virtuous meme puppet Tim Tebow took to Twitter today to deny rumors that he's been slated to star in a forthcoming season of "The Bachelor." Though he was recruited to take part by the show's host, Chris Harrison, Tebow kind of has another gig that's got him preoccupied for the next decade or so, bounties notwithstanding.
However, Page 2's dubious network of sources acquired the following press release, which indicates the young quarterback might have a greater interest in the show than he initially let on:
---
To members of the media, clergy and NFL competition committee:
It has been widely reported that Mr. Tebow was approached to star in the next installment of the ABC reality show "The Bachelor." We can confirm these reports, but as things presently stand, Mr. Tebow will be unable to appear on the show.
However, Mr. Tebow is not entirely opposed to the idea. In fact, he is enthusiastic about the idea of utilizing an elimination-based competition to determine his bride, as he is at the peak of his virility and has Duggar-like ambitions to produce several litters of sons. Unfortunately, the amoral behavior depicted on "The Bachelor" does not align with his values. Mr. Tebow will reconsider his appearance on the show if the producers can adjust the show's format to meet the following criteria:
• Each female must score at least 26 on the Wonderlic test in order to participate.
• The "dates" that generally make up the competitive portion of the show will be replaced with courtship ceremonies, where the women are not present and Mr. Tebow has discussions with their fathers while sitting in rocking chairs.
• Mr. Tebow cannot be bothered from 6 p.m. 'til 7 p.m., as this is bath time.
• Mr. Tebow cannot be bothered from 8 p.m. 'til 6 a.m., as this is bedtime.
• The women must sign a waiver before appearing on the show that verifies their approval of a list of 120 names Mr. Tebow has selected for their eventual male children. Some of the names: Timothy Jr., Timothy Jr. II, Super Moses, Elwayne, Hymnal, Football and Kevin.
• While Mr. Tebow does not stare at women in a wanton manner, it should be noted that he enjoys denim dresses so very much.
• As Mr. Tebow has been relentlessly conditioned to throw heat-seeking spirals into the chest cavities of any and all mammalian life forms, the women selected to appear on the show should respond gracefully in the inevitable instance that Mr. Tebow tests their reflexes.
• In lieu of the roses traditionally presented at elimination ceremonies, Mr. Tebow will offer Cracker Barrel gift cards in the amount of $25 to those who advance in the competition.
It is our hope that ABC will consider these conditions so Mr. Tebow can appear on the show. If not, please note that Mr. Tebow is also open to appearing on "The Andy Griffith Show," assuming it is still in production.
Gooooooooo Broncos!