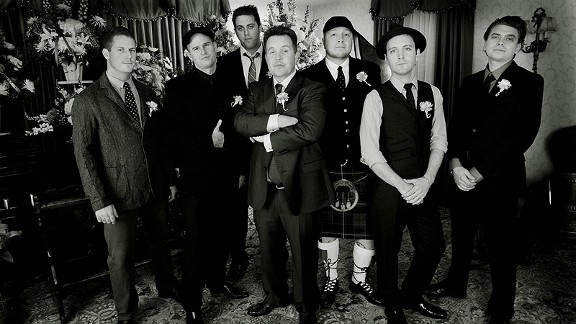 Kerry BrettThe Dropkick Murphys are releasing a live album they recorded at Fenway Park last fall.
On March 13, the latest Dropkick Murphys album comes out: "Going Out In Style: Fenway Park Bonus Edition."
But bassist and lead singer Ken Casey has something else on his mind. He's traveling to Clearwater, Fla., to meet with his pal and new Philadelphia Phillies closer Jonathan Papelbon.
Papelbon, of course, spent the past half-decade finishing games for Casey's favorite team. Each time he stormed out of the Boston Red Sox bullpen, the Dropkick Murphys' "Shipping Up To Boston" roared over the Fenway speakers.
So Item 1 on the agenda for Clearwater is ironing out Papelbon's role as spokesman for the Philadelphia branch of The Claddagh Fund, a charity Casey founded to support community-based non-profits.
Item 2 is figuring out the intense closer's new walkout anthem.
"He can't use 'Shipping Up To Boston,'" Casey said. "That's a Boston song. One of the Philadelphia radio guys suggested 'Johnny I Hardly Knew Ya.'"
"And I have to get with the new Sox closer [Andrew Bailey] to let him know he can use 'Shipping Up To Boston,'" Casey adds. "That's not Pap's song. That's the closer's song."