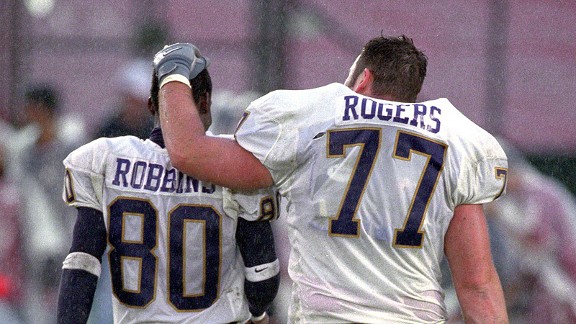 Tom Hauck/Allsport/Getty ImagesMatt Rogers, an ex-University of Washington lineman, now helps out as the host of "Coming Home."
In 2001, Matt Rogers was an offensive lineman for the University of Washington team that won the Rose Bowl. In 2004, the 33-year-old Rogers was in the top 12 in the third season of "American Idol."
And now, this spring, he's back for the second season of Lifetime's "Coming Home," debuting 10 p.m. Sunday.
The show follows the inspiring surprise reunions of members of all five branches of the military with their loved ones as they return home from active duty.
"It's a complete blessing that these families let me into their lives," said Rogers, who has been entertaining since the age of 5. "I get to spend time with them and be part of the homecoming. I'm so honored."
Upcoming episodes feature anumber of special guest appearances including country music star Clint Black, who helps two kids write a song about their father who just returned from Afghanistan. Sesame Street's Elmo and Rosita help to put together a surprise for the children of an Army sergeant who are having an especially hard time with their father's deployment. And the Oakland Raiders also join in on when they help surprise the kids of a lifelong Oakland Raiders fan who hasn't seen his family in over a year.
"I couldn't have dreamed I'd be getting to do this when I was playing football," Rogers said. "I wouldn't trade this for anything in the world."