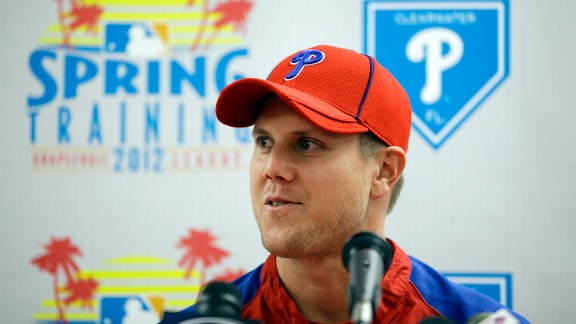 AP Photo/Matt SlocumPhillies fans are eager to hear what Jonathan Papelbon will use as his entrance music.
Former Red Sox closer Jonathan Papelbon says he has no plans to use the Dropkick Murphys' "Shipping Up To Boston" as his entrance music now that he's a Philadelphia Phillie. That's for the better, probably; Papelbon wouldn't make it past the warning track if he tried trotting out to the mound with a Beantown anthem as his calling card. ESPN Music asked lifelong Phillies fan, musician and audio engineer Mike Kennedy (Audible, BC Camplight, Lefty's Deceiver) for some suggestions that would be better-suited for Papelbon's tenure in the City of Brotherly Love.
"Eye Of The Tiger" by Survivor. The obvious choice. Sure, it'll get the stadium amped; Philadelphians still love all things Rocky Balboa. But this particular fist-pumping ode to perseverance is way played-out. Maybe instead, he could go with a curveball like ...
"One on One" by Hall and Oates. This classic by the Philly duo speaks of the timeless showdown at the heart of the game: Batter vs. Pitcher, one on one. I wanna play that game tonight. However, this smooth selection is probably not going to get the crowd on their feet, unless it's to slow dance. Or boo.
• Click here to read the rest of the suggestions on ESPN Music.