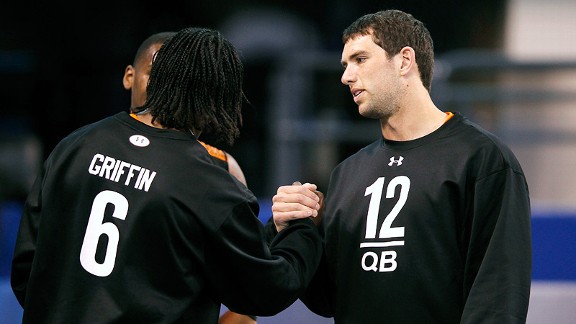 Joe Robbins/Getty ImagesRobert Griffin III and Andrew Luck will give scouts quite the workout at their respective Pro Days.
Welcome to your first day on the job as an NFL scout! Your assignment: Show up for the Pro Days of Robert Griffin III and Andrew Luck.
Yeah, we know. For eons, we've been sure they'll be snapped up immediately in the first two picks by the Indianapolis Colts and, thanks to savvy trading, the Washington Redskins. But if Luck and RG3 are willing to go through the motions of Pro Day, the least you can do is act like you know what you're looking at.
Your mission: Break down the mechanics of these two elite QB prospects with all the precision of a team of Peyton Manning neck surgeons. Hey, if they're certain their work will pan out, show equal bravado with your analysis.
Also, you must know the lingo. Report back to your general manager on the following areas: Accuracy; Arm Strength; Touch; Decision Making; Athleticism; Footwork; Mechanics; Whether They Look Better in Your Home Colors or Away Whites; Name and Address of Neck Surgeon.
However, the prospect might decline to perform drills that showcase certain areas. Prospects decide which workouts have upside or downside for their skill sets. Some candidates might feel more comfortable in telling you how fast they ran or how much they lifted based on previous private sessions. These stats might be as rooted in reality as a fast food nutrition guide.
Finally: If you recommend that your team draft Robert Griffin III, make sure the card that's sent to the podium is filled out with the correct name and not the psychological slip "Robert Griffin Jr."
Because Roger Goodell is such a stickler for details, he'll insist that you DID draft a Robert Griffin Jr., and your team will now have the draft rights to a random Robert Griffin Jr. selected from the Staten Island phone book. And that will cause nothing but division in the locker room when some 44-year-old, 5-foot-7, 246-pound, 42-percent-body-fat, 3.26-inch vertical leap plumber beats out Rex Grossman in camp.