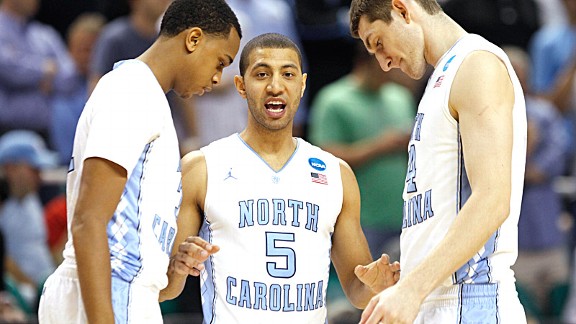 Bob Donnan/US PresswireWe can't tell you if Kendall Marshall will play against Ohio, but we know he's worth following on Twitter.
North Carolina point guard Kendall Marshall is in the news because of a wrist injury that may leave him sidelined for the remainder of the NCAA tournament. Tar Heels coach Roy Williams cautioned the UNC faithful that Marshall hasn't even been able to brush his teeth this week -- revealing that Kendall apparently uses two hands to brush.
Is UNC posturing, or is Marshall out for the tournament? In Twitter fashion, the injury has spawned accounts in honor of Marshall's wrist, as Carolina fans eagerly await the prognosis of his injury. Curiously, these fake accounts seem like a more viable option to some fans than following and receiving updates from Marshall himself.
But there's much more to Kendall Marshall than basketball. On this Follow Friday (#FF), get to know @KButter5 off the hardwood:
• Categorizing the effectiveness of a nap
• Secondary education through phone games
@KButter5, Brother. Son. Sneakerhead. I once climbed a mountain, just to see how tall it was. Chapel Hill via 703