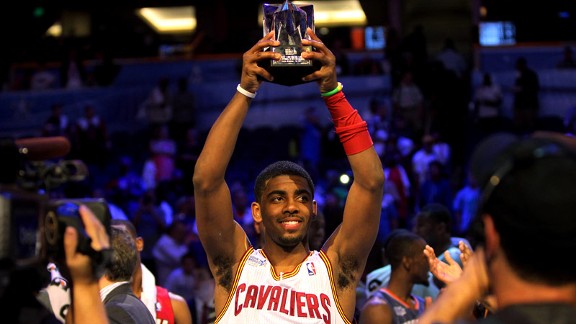 Kim Klement/US PresswireRookie of the year front-runner Kyrie Irving is already having an award-winning season for the Cavs.
Geographically speaking, we could have called this the "All-New York to Chicago Team" and covered the same sort of distance. But All-Texas Team sounds better. Especially to those from Texarkana to El Paso. See if you can hang on for a few seconds as you take the ride.
Steve Denton: Technology and weight lifting have since knocked his record to the wayside, but the heavy hitter from suburban Corpus Christi once held the mark for the fastest recorded serve in tennis history. Actually, "once" doesn't do justice to Denton, whose 138-mph effort held the top spot for 13 years -- an eternity in a perpetually changing sport. He's a former Texas Longhorn who -- gasp -- now coaches the Aggies at A&M, and he shares his last name with a Dallas suburb of about 125,000.
Kyrie Irving: A trend setter, the point guard who shares his name with another Dallas suburb is the first of two Duke point guards with Texas in his name to play one college season and seek the prosperity of the pros. Irving, Texas, of course, is the home of the Cowboys' former stadium. As Kyrie Irving was the top prospect in the 2011 NBA Draft and the Dallas Mavericks won the league championship, the two were destined to remain apart. Irving plays for Cleveland.
Dallas Lauderdale: The 6-8, 260-pounder might qualify for All-Texas, All-Florida, All-Ohio or All-Poland, depending on the criteria used for selection. Lauderdale, predictably nicknamed "Fort" for his imposing, shot-blocking presence, was a solid prospect out of Solon, Ohio, who became a Buckeye and ultimately migrated to Poland, where he played this past season for PGE Turow.
Austin Rivers: Much like Irving, Rivers will do more than test the waters of the NBA Draft. He's currently a freshman at Duke, but he'll likely be a high pick in this year's draft, which means he's unlikely to see much of Austin, capital of Texas and home to an NBDL franchise. Austin's river, by the way, is the Colorado.
Katy Steding: The former Stanford basketball player has no connections to Texas, aside from her first name, which she shares with the hometown of Roger Clemens. But who says the Lone Star State has cornered the market on all of sports' stars? Originally from Oregon, she helped the Cardinal to the 1990 NCAA championship; played pro ball in Japan and Spain; was a member of the 1996 U.S. Olympic team; resumed her career with teams in Portland, Sacramento and Seattle; and has coached in Oregon, New York and now as an assistant to former Stanford teammate Jennifer Azzi at the University of San Francisco.