What a week for NFL adjustments. The New Orleans Saints have to adjust to losing much of their coaching staff and possibly most of their defense. The Denver Broncos have to adjust to having a real Hall of Famer at quarterback again, while the Indianapolis Colts have to adjust to not even having Curtis Painter anymore. The Miami Dolphins and Jacksonville Jags have to adjust to, well, check that, nothing new there.
But the big adjustment is for New York City. Tim Tebow is coming to the Big Apple, so make your "Garden of Eden" jokes now, although it's doubtful anyone has ever put New York City and Eden in the same sentence before. The real adjustment, however, is in back-page headlines for the city's tabloid newspapers.
Last week The Daily News had the somewhat bland "Tebow Time" and the punchier "Amen!" while The Post got clever with "God him!" But the headline writers will get no relief now as they have to come up with back-page headlines day after day, week after week and month after month. Those guys need a raise and some help. We have no money for them but do have a few suggestions for back-page headlines of the near future: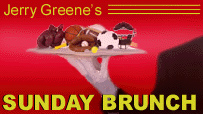 • "Jeter, Tebow and Lin, oh my!"
• "Tebow or A-Rod? Kim can't decide!"
• "Can Giants defend title? Yawn!"
Tried and tried to think of one involving the Mets and failed because if the Giants can't buy a headline, what chance do the Mets have? Meanwhile as our superstar writers dot the "i's" and cross the "t's" on the main courses of the Brunch, here are a few bon mots to whet the appetite. Bon appetit.
• So we went to see a Rangers-Devils brawl and a hockey game broke out.
• If "David Garrard" is the answer, the question must be "How can the Dolphins stay out of the playoffs?"