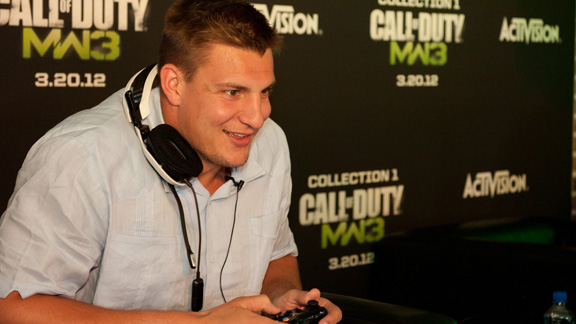 ActivisionRob Gronkowski shoots it out online in "Call of Duty: Modern Warfare 3."
Yoked-out Patriots tight end Rob Gronkowski flexes his way through the virtual killing fields of "Call of Duty" with the same aggression and swagger he usually reserves for Sunday afternoons.
"I like to run right up on you when I play," Gronkowski tells me, taking a break from a recent 'Modern Warfare 3' grudge match against Ahmad Bradshaw of the Giants to break down his gaming skills. "I'm the type of gamer who wants to grab the shotgun and go looking for you. It's just not me, it's not my personality, to sit back somewhere and wait for the action to happen. I'm out there making things happen."
Gronkowski's been hooked on the "Call of Duty" franchise since his brother first introduced him to "Modern Warfare 2," and says that the Patriots are a team obsessed with playing the game online after practice.
"I played for about five hours the other day," admits Gronkowski. "After practice we go home, we connect with each other online, and we're playing 'Call of Duty.' The game is just so real. The action is so intense, it feels like you're out there in real life. The graphics are amazing, and the way you can get online and play against people from across the country is just a blast.
"I've always been a big video game player, but 'Call of Duty' really takes things to another level. I love how with head shots, the guy goes down and he's dead right there like in real life, but if you hit him in the leg or in the stomach, he might hop around, but he's still alive so you have to chase after him and hit him again. The game is just awesome."
Unfortunately for Gronk, it was his virtual head getting split by Bradshaw and crew, as the Giants, once again took down the Patriots, this time three matches to two in the new "MW3" downloadable maps that were just released this week on the Xbox 360.