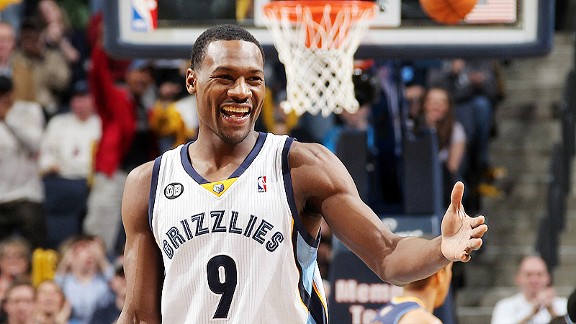 oe Murphy/NBAE/Getty ImagesTony Allen is one of the grittiest players in the league, and also one of its most prolific tweeters.
The cocktail of player-media back-and-forths, teammate chatter and muffled bass hits that often permeates in the cramped visiting locker room at Staples Center slowed to a brief halt when an unexpected serenade came belting out from behind the walls of the shower area.
The crackling high notes were sent from the pipes of one Tony Allen, who emerged from the ceramic divider with a towel wrapped around his waist, singing the first lines of the chorus to Stevie Wonder's "I Just Called To Say I Love You" … only with a small Allen twist: Instead of "love you," he crooned something else.
"I had to switch it up on y'all," he said with a cackle.
A nearby team staffer chuckled and a scant amount of Memphis Grizzlies players shook their heads and smiled, but most went about their pregame maintenance. Scenes like this one aren't exactly uncommon when you're around Allen.
Part in-your-face, part blue-collar, part jukebox, part inspirational quote machine, part God-fearing man, Allen says he makes sure to hold some things back from the public eye -- "I only give you half! … All we ask is trust," he said, dipping into his never-ending bag of fortune-cookie phrases -- but when he does open up, it comes unfiltered.
That lay-it-all-out-there mentality has made him the emotional leader of the Grizzlies, his "Grit and Grind" ethos serving as the mantra for the scrappy, superstarless small-market club. And it's also what makes Allen a cult hit on Twitter.
On his @aa000g9 account -- the two As representing his first and middle name, Anthony Allen; the zeroes symbolizing his fresh start in Memphis after six years in Boston; the "g" because he's a Grizzly; and 9 is his jersey number -- Allen will fill what he calls his public diary with about 20 140-character-or-less status reports a day, his words often laced with heavy doses of punctuation and capital letters. All fingered into his cell phone in stream of consciousness, the 30-year-old Allen will provide updates on his day, sing song lyrics and dole out words to live by as confusing as they are thought-provoking, creating a daily tea-cup ride into the mind of one of the NBA's most unique characters.
"I'm just giving them my life story," he said. "Ain't sugar-coating nothing. When it happen, it happen. When I see it, I see it. If it worth tweeting, I'mma tweet it."
• Click to read the full post -- where Allen explains his tweets -- on the TrueHoop blog.