With the Kentucky Wildcats tabbed as prohibitive favorites to win the NCAA men's basketball championship, the national title debate has been dialed down to the point that a different discussion has raged this week: Could the Wildcats beat the Washington Wizards?
It's not often that a college team boasts as much collective talent as this Kentucky roster, and the Wildcats have excellent chemistry to boot. Those two factors have made Kentucky almost unbeatable this season.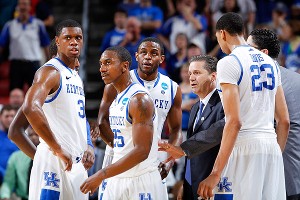 Joe Robbins/Getty ImagesJohn Calipari's Wildcats benefit from a fantastic combination of talent and chemistry.
The camaraderie of this team and its passionate fan base has spawned the hashtag #BBN, short for Big Blue Nation, as a means to promote dedication to the Wildcats.
So, on this Follow Friday (#FF), check out Kentucky's men's basketball team on Twitter:
• Checking in on the competition
@AntDavis, forward for the University of Kentucky ... wearing #23 this upcoming season ... Big Blue Nation!!
@MikeGillie14, Down to earth always keep God 1st, I'm a regular guy just have a Bigger Dream than most -- Follow me
@TerrenceJones1, Forward from the University of Kentucky
@DLamb20, Guard at the University of Kentucky. #Teamnosleep
@uknum1, Blessed