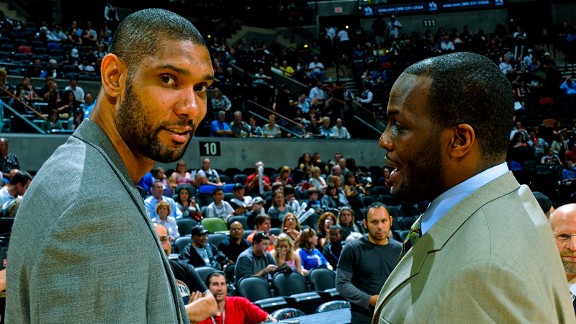 D. Clarke Evans/NBAE/Getty ImagesTim Duncan, speaking with Malik Rose while sitting out a game, sparks thoughts about DNP.
During the week that was, the San Antonio Spurs displayed a sense of honesty (and humor) rarely seen in sports. Allow us to explain:
In the NBA, when a player does not compete, his name is listed in the official lineup with "DNP" next to it, which stands for "Did Not Play." Then a brief explanation follows that can be as vague as "inactive" to as specific as "left mid-foot sprain."
Last Sunday, before beating the fading Philadelphia 76ers, Duncan's name was followed by this: "DNP -- old."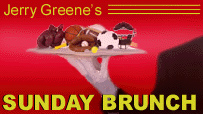 You got to love Spurs Coach Gregg Popovich. Wouldn't it be great if the NBA demanded such truthful listings? Here are a few that would be interesting:
• Kobe Bryant: DNP -- sulking.
• Glenn "Big Baby" Davis: DNP -- still eating.
• LeBron James: DNP -- indecisive.
• Jeremy Lin: DNP -- praying with Tim Tebow.
• Dwight Howard: DNP -- reading his contract.
• Metta World Peace -- DNP -- not on this planet.
You get the idea. Feel free to add some of your own. Meanwhile, here are a few more notes from the week that was while our literary chefs add a few spices to the sumptuous entries in Sunday's April Fool Brunch: