NEW YORK -- Kam Chancellor had never been to New York.
So imagine when the NFL and Nike asked Chancellor, who has played two years for the Seattle Seahawks, to be the first player to showcase the next generation of uniforms for all 32 clubs at the Brooklyn Navy Yard on Tuesday.
And imagine all this happening on his 24th birthday.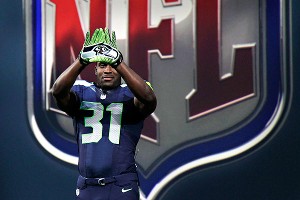 AP Photo/Seth WenigKam Chancellor shows off Seattle's new uniforms on Tuesday, which got the biggest makeover by Nike.
"'You sure you want to do this?' they asked me, and I said, 'Of course!'" Chancellor said. "And I'm staying until Thursday to see all the sights while I'm here. I'm even having a birthday party [Tuesday night] at the Greenhouse. Some of the players will be there to show me some love."
Nike takes over as the NFL's official on-field apparel provider for the next five years after the league partnered with Reebok for 10 years. All 32 teams had players -- Chicago's Brian Urlacher to Arizona's Larry Fitzgerald to Dallas' Jason Witten -- on hand to show off their uniforms in front of hundreds of media members.
The Seahawks are getting the biggest fashion makeover, with darker jerseys, a more aggressive-looking hawk on the helmet and a detailed stripe down the pants symbolizing the fans, the team's 12th man. In fact, the number 12 is sewn in the jersey, too.
"This uniform is especially made for the 12th man, thinking all about the fans. All the players really liked them," said Chancellor, who was drafted in the fifth round of the 2010 draft. "These uniforms are lighter. The shoes. The socks. I can reach above my head without a problem, too."
NFL commissioner Roger Goodell, who was on hand, said he has high expectations for the partnership with Nike.
"I think the NFL and Nike are hoping to make things betters for the athletes, the uniforms and the whole fan experience," Goodell said. "We are always looking for ways for fans to interact with the game itself, and I think we have. I think fans will want to buy the same uniforms as the players are wearing."
That's what Kris Aman, vice president and general manager of men's athletic training at Nike, would like.
"The energy you feel in here is all about a celebration. This is just the beginning," Aman said. "People in the NFL and people here at Nike are fans. We are here showing our passion for the game."