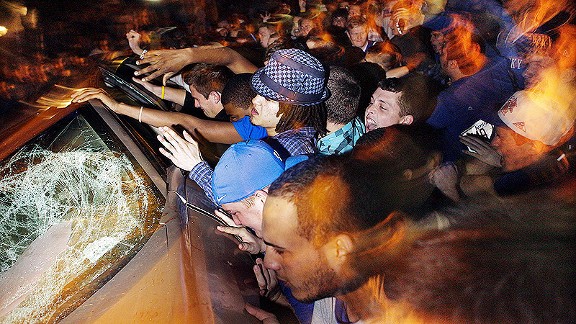 AP Photo/Christian RandolphHow do you distinguish rioting Kentucky fans from rampaging zombies? Page 2 shares the answers.
In the zombie survival apocalypse of "The Walking Dead," sheriff Rick Grimes hails from the town of Cynthiana, Ky., which Google maps tells us is less than 30 miles from Lexington.
So we're guessing that in the days before he and his family were trying to keep a step ahead of the undead, Sheriff Grimes has had cause to lock up the occasional Kentucky Wildcats fan until the moonshine wore off.
Now, as Wildcats fans sift through the ashes of their harrowing night following the 2012 national championship victory, some safety tips should be in order.
Maybe someday Kentucky basketball will celebrate national title No. 9. Maybe someday there will be a zombie apocalypse. Conceivably, both things could happen on the same night.
In the interest of public safety, here's a quiz you can take to answer the question: "Are you in the middle of a zombie attack or a Kentucky Wildcats national championship celebration?"
Q: Are couches and cars on fire all around town?
A: If yes, it is a national championship celebration. If it had been zombies, caskets bearing the Kentucky Wildcats logo would be burned.
Q: Hundreds of people are slogging through the streets. Are they drunken students or zombies?
A: Listen closely to what they're chanting. If it's "C-A-T-S," it's students. If it's "Brains, brains, brains," zombies.
Q: Where's the safest place in Lexington to hide?
A: The empty football stadium.
Q: All of the basketball players are fleeing the city. Are they fleeing crazed fans or zombies?
A: Trick question. It's time for the NBA draft.