Commentary
Yes, I'm ready for some football
Updated:
July 24, 2011, 8:33 AM ET
By
Jerry Greene
| Special to Page 2
Remember when this NFL lockout started, back when we were kids? Remember how we used to think the league owners had devilish plans to break the players' union so that it could never bother them again?
How could we have been so naive?
As we saw at the end of this week, the NFL owners love the players' union almost as much as they love their tax shelters. The owners put together a little 200-page "collective" bargaining agreement and offered it to the players -- as long as they ratified their union and ratified it quickly.
"Hey," said the owners, "we want to end this nasty lockout right away so we can all start getting richer again. So how soon can you recertify your union? How about tonight? Tuesday at the latest?"
Of course the players aren't pushovers. They said, "Hey, where's the respect? We'll show you. We'll wait, uh, days until we recertify our union and live under your rule for the next 10 years."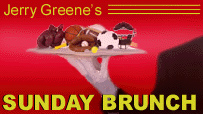 Players play and owners rule. But what do we care? We're getting our football back -- although still no word if anyone is recertifying Brett Favre.
While our literary chefs are preparing the sumptuous main courses for today's Brunch, let's chew over some tidbits from the week that was.
• If you could have one wish, would it be to score a 99 in Madden 2012 or be named a Page 2 statue of the week? Both are priceless.
• Plaxico Burress talked to some youngsters in Florida about guns. Next week the kids get financial advice from Bernie Madoff.
• The Oakland Raiders just abstained from breakfast.
• The Kardashians get enormous exposure on TV but the UFL can't get noticed. What do the Kardashian girls have that the UFL ... uh, never mind.
• The Bengals sent a midweek e-mail to season ticket holders announcing the lockout was already over. Next week they will send details on buying playoff tickets.
There's the bell. Time for the main meal, including some sports we don't always mention. Let's get to it:
• Cindy Boren of The Washington Post gets us started with her appropriately named Early Lead blog with an idea that is bound to happen. It's a suggestion for a contestant on the next "Dancing With The Stars" and we may already have a winner. Read it here.
• Anyone who thinks "soap opera" is just for women has never been in a NASCAR garage. Doug Demmons of The Birmingham News gives us a little gossip about which well-known driver is hurling vague threats at another well-known driver. Read it here.
• Ever dreamed of playing golf every day of the year? One guy did it and Tod Leonard of The San Diego Union-Tribune tells us that he actually seems quite sane even if he doesn't want to stop. Read it here.
• Although we've already moved on, we still feel pretty good about women's soccer. But what about the men's game and the global corruption that surrounds it? Jeff Z. Klein of The New York Times tells us about the estimated 180 billion euros wagered each year on soccer -- and the crime that gambling attracts. Read it here.
• Enough with the downers. We close with something you probably never expected to read: A tale of how the NFL lockout created a priceless treat for a handful of Houston fans. Syd Kearney of the Houston Chronicle has got the feel-good story of today's Brunch. Read it here.
And that's the way we want to close: Feeling good. Have a great day organizing your Fantasy cheat sheets.