Party of Five makes a deal
Originally Published:
July 26, 2011
Page 2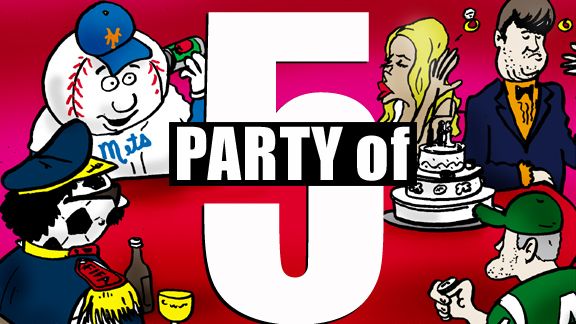 Kurt Snibbe/ESPN.com
Welcome to another edition of Page 2's Party of Five, where five writers tackle five questions that the world needs answered right now.
(Or later, depending on how much time you have to kill.)
Today, we'll discuss the NFL's big agreement, the MLB trading deadline, Brett Favre (reluctantly), FIFA drama and Jay Cutler's breakup.
1. The NFL lockout finally has ended. Which part of the new collective bargaining agreement were you most surprised about?
Patrick Dorsey: That USC players agreed to take such a small percentage of overall revenue.
Vincent Thomas: Nothing! Seemed pretty lucid minus the periodic histrionics. I do think the owners could have weaseled in some specific, leaguewide specific behavioral clauses. You know, a "No Miley Cyrus" clause, a "Shut up in front of TMZ cameras" clause. Image-maintenance stuff like that.
Dave Wilson: That the players got a bump for the ol' nest egg with the new "Albert Haynesworth Clause," where they each get a huge Daniel Snyder contract without even having to play for the Redskins.
Michael Philbrick: The players pretty much getting only more time off throughout the year and stepping to the podium with a "nailed it!" attitude. Congrats, I'm sure all those three-day weekends will come in handy when you're released. Oh, did you forget they can still do that and not pay you?
Also, something I wasn't surprised by, but always love, is any system to rein in contracts for first-round picks. There's really nothing better than billionaires asking millionaires to help them not become millionaires themselves.
DJ Gallo: I thought it was interesting that in order to get the players to agree to be tested for HGH, the owners agreed to be tested for embalming fluid.
---
2. The MLB trading deadline is Sunday. Who should be the buyers and sellers?
Dorsey: With rival eccentric Heath Bell making deadline headlines, Brian Wilson goes seller by hocking his beard to the highest bidder. Brian Wilson then buys it and becomes the first known player to wear his own hair as a fake beard.
Thomas: I mean, come on, the Dodgers should be selling. Duh, right? Who should be buying? I don't know. Magic. Cuban. Ari. Donald Trump and his Trump Roast flameout sensation The Situation, who, as we all know, does things with models on stacks of Benjis in his mansion.
Wilson: I think Rangers owner Nolan Ryan should sell more of his delicious smoked beef sausage. I think the buyers should be anyone with discriminating taste in meat products.
Philbrick: I think the Royals should be buyers of things like vacation packages that start on Oct. 1. What? They can't afford that? Fine, Sept. 1 -- no one will notice anyway. As far as sellers, I think the Yankees need to go for the clean sweep and start offering bottles of air that Derek Jeter breathed in his quest for 3,000 hits.
Gallo: The Yankees, Brewers, Reds and Diamondbacks should be looking to buy pitching, while the Dodgers and Mets should be looking to sell players, extra equipment, plasma. Really anything that's not bolted to the ground.
---
3. If we talk about Brett Favre does that mean Brett Favre wins?
Dorsey: Not if we talk about him late in the playoffs. (Oh, snap!)
Thomas: Shout-out to Shaq Diesel, who is going to be the News Cycle King in February and March when he declares he's healthy enough to help a few contenders.
Wilson: It's like when your wife all of a sudden quits talking to you and you can't figure out what's happening. What's wrong? Nothing. It's fine. Don't worry about it. It's the silence that's so terrifying. If he just said, "There's nothing to this," then everyone would be cool. But he doesn't. He likes us to stew and twist and turn. And he wins.
Philbrick: If you have to even think about that question, you don't get it. The beating Brett Favre's professional and personal reputation took last season would have killed most humans. Not the Lawnmower Man -- the fact that we're only questioning the number of retirements and nothing else means the game isn't even going on. The game is over -- and Brett Favre won. Yee haw!
Gallo: My true fear is that Brett Favre may actually be willing to be an NFL backup. That gives us five to six more years of July Favre-returning-as-Team-X-backup stories, followed by five to six years of July Favre-returning-as-Team-X-third-string stories followed by five to six years of UFL stories, then Arena League stories, then random semipro leagues and so on and so forth for decades into the future. And by that time I'll be dead -- due to old age or Favre fatigue -- and will never have had the joy of experiencing a Favre-free football season in my memory.
---
4. FIFA executive committee member Mohamed bin Hammam has been banned from football for life, and the Qatari responded by saying FIFA president Sepp Blatter is like a dictator who executes his rivals. Do you think soccer could maybe tone it down a bit?
Dorsey: You think this is bad? Wait until Blatter's next press conference, when he declares: "Alex Morgan will marry me."
Thomas: I think SEC football fans -- the kind who poison trees -- are the only American sports cult that can understand the worldwide obsession with soccer. It's borderline demented. Patton Oswalt acting out some variant form of Stockholm syndrome in "Big Fan" is cutesy child's play to what a Crimson Tide fan is capable of or the life-threatening urgency of an "everywhere-but-in-America" soccer match. Yes, world football can tone it down a bit ... but, on the real, not hardly because of this.
Wilson: The North Koreans totally got struck by lightning and used musk deer gland medicine as a remedy, so this is small-time drama.
Philbrick: After watching the footage from the hearing, I think you might have a point. I mean, a lot of people like soccer, but come on ... it's not like we're talking about cricket or something like that.
Gallo: Tone it down? They need to dial it up. The Qataris clearly don't care enough about the sport to really hate Blatter. If they did, they'd call him a "crook" and a "devil" and say: "If that man was on fire and I had to piss to put him out, I wouldn't do it." That's real sports hate.
---
5. Bears quarterback Jay Cutler and his fiancee, Kristin Cavallari, have called off their wedding. What's Cutler's next move?
Dorsey: With the couple's wedding registry now worthless, Cutler probably will return that maple rolling pin, cherry/olive pitter and sausage stuffer ... but you just know he's going to "lose" the pancake pen and keep it for himself.
Thomas: Cutler's move is to keep making millions with the Bears and snag his next "dime." Cavallari once agreed to a date with Three 6 Mafia for a stag on "Punk'd" -- seemed to keep her star burning. Maybe they stick as a sexy, lecherous substitute teacher in some South or East Los Angeles public school. Like "Dangerous Minds" without the redemption or Coolio theme song.
Wilson: Well, it's a tough break. But there are plenty of other MTV fish in the sea. Maybe L.C.? Or Audrina? She seems nice. But who could've seen this coming? Cutler seemed so into her at her recent fashion show.
Philbrick: All the answers Jay needs are in a little piece from Corinthians he probably would have heard at his own wedding: "Love is patient, love is kind. It does not envy, it does not boast, it is not proud. Love doesn't care if you have only one eyebrow. Oh, love might get you to agree to take some really bad photos..." I forget the rest. Good call, Jay.
Gallo: Dating isn't easy. Cutler needs to talk to Ben Roethlisberger for relationship advice. Ben will tell him that there can be a few bumps in the road and/or investigations until a man finds his true soul mate.